Estimated read time: 2-3 minutes
This archived news story is available only for your personal, non-commercial use. Information in the story may be outdated or superseded by additional information. Reading or replaying the story in its archived form does not constitute a republication of the story.
Coco Warner reportingIt's an awful mess for more than a dozen homeowners in Provo after sewage backed up into their houses.
Jerry Myrup/Homeowner: "They kept telling the one lady, 'You're not going to have a problem.' So she went into the house and all of a sudden, wham, the water hit her."
The problem now is the clean-up process, and a lot of people want to know who is to blame for this.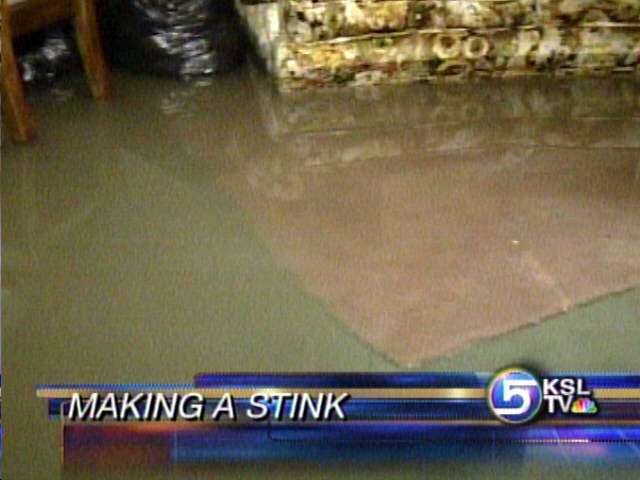 The problem has been traced to a dead dog stuffed into the sewer system, backing sewage into at least 20 homes.
Provo police are investigating as homeowners try to clean up.
The pictures from yesterday paint a pretty grim picture -- raw sewage seeping into several Provo homes. This isn't your typical flooding situation. Sewage leaves behind a trail of contamination.
That means most things simply have to be thrown out.
"When it came through the toilet, it was shooting at least 10 inches in the air."
Jerry Myrup figures his loss is in the hundreds of dollars. Luckily, he was able to move his stuff to higher ground before the sewage hit.
And things are looking up since 24 hours ago.
Jerry Myrup/Provo homeowner: "It's all cleaned up and ready for us to start hauling it back downstairs off the patio."
The Dutson family was hit a bit harder. They say they've lost 90 percent of the items in their basement, including Helen's piano.
Helen Dutson/Provo homeowner: "I wanted to save my piano, but he said the water was too far up on it and that I should get rid of it."
Provo City called in the Utah Disaster Kleenup company to mop up the mess.
David Mefford/Utah Disaster Kleenup: "What the city has authorized us to do is to make the homes habitable again. In other words, make them sanitary and clean."
That process includes extracting the bacteria-filled water, removing contaminated carpet, rinsing floors, applying disinfectant and setting up fans and dehumidifiers.
David Mefford/Utah Disaster Kleenup: "They need to realize that it can be a dangerous situation and it's best to call someone who knows and understands how to take care of it properly for them."
While Provo City is covering the cost of the initial clean-up, most insurance companies only cover damages if the back up occurrs within the home, not outside of it, like in this case.
"We'll let you know after we do some investigation. But they're not going to help."
Provo police say they continue to look for the person who put a dead dog down the sewer manhole, causing the whole mess. They found the dog's owner, but the owner says the dog had been missing.
×
Most recent Utah stories