Estimated read time: 2-3 minutes
This archived news story is available only for your personal, non-commercial use. Information in the story may be outdated or superseded by additional information. Reading or replaying the story in its archived form does not constitute a republication of the story.
Jed Boal reporting Even if rising gasoline prices don't rein you in personally on the road, they will cost ALL of us eventually.
Our state and local governments, as well as school districts, are reeling from the cost of fuel. They are struggling to stay on the road and stay on budget.
An invisible tax we all pay: That's how Governor Jon Huntsman Jr. characterizes the rising cost of fuel.
Governor Jon Huntsman, Jr.:"We have resources, yet, we're dealing with imported oil prices that are causing pump prices to go through the roof."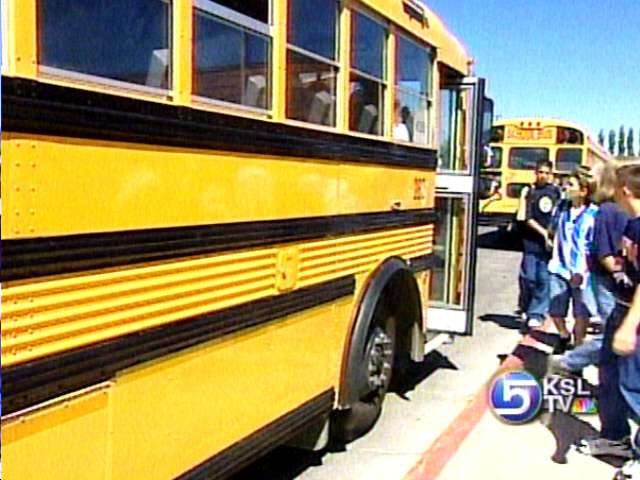 The governor says high fuel prices will affect the cost of government across the board, so the state will study an energy policy for the first time ever.
Governor Jon Huntsman, Jr.: "I think there's more we can be doing about that and should be doing about that."
The state gives school districts money for transportation, .but they are getting no extra funding this year.
Last year, fuel costs in the Davis School District rose nearly 300-thousand dollars, and they expect another rise. This year the district budgeted 650-thousand dollars for fuel, and they do not know if that will cover expenses.
Christopher Williams/Davis School District: "It isn't the family Taurus going down the road, these are big vehicles that eat up a lot of gas."
A fleet of 191 buses that get seven miles per gallon.
Districts have few options.
Christopher Williams/Davis School District: "We either increase the cost to the schools, or spend less time on the roads"
Or charge the students more for travel. Principals have tough decisions ahead.
Christopher Williams/Davis School District: "Schools are just going to have to decide which field trips are important to us. If they think all field trips are important they will have to cut back in other areas."
Salt Lake City government came up $300-thousand short in fuel money for its fleet this year, even though the city anticipated a large increase in fuel costs. If gas prices continue to increase, the fleet could exhaust next year's fuel budget by April.
Right now, the city has not made specific cuts. Ultimately taxpayers will pay.
UTA expects a shortfall of one million dollars in it's fuel budget. Fees for buses and Trax went up in May and will rise again in January. With no price drop in sight, we could face bigger adjustments in the future.
The Governor has an energy advisor starting next week...She'll look for ways the state can save on energy costs.
×
Most recent Utah stories