Estimated read time: 2-3 minutes
This archived news story is available only for your personal, non-commercial use. Information in the story may be outdated or superseded by additional information. Reading or replaying the story in its archived form does not constitute a republication of the story.
Paul Nelson, KSL NewsradioA debate is growing between some small Salt Lake City businesses and Utah lawmakers. A new bill would make secondhand stores work under similar rules as pawn shops. The bill would require stores to get more of your personal data when you sell things you no longer want.
The bill came after Provo Representative Rebecca Lockhart noticed customers at pawn shops have to jump through a few more hoops than people at secondhand stores do.
Rebecca Lockhart: "They are subject to things like fingerprints, checking I.D., those kinds of things that other secondhand dealers are not."
Once you walk into Moriarty's Antiques Store, owner Fred Hightower says there were good reasons for the legal distinctions.
Fred Hightower: "You can't regulate secondhand business by taking a law that was written for another business, pawn shops, specifically."
House Bill 402 would make secondhand stores more accountable for the items they sell. Lockhart says stolen items would be easier to find.
Rebecca Lockhart: "Law enforcement obviously wants to be able to recover stolen goods if they're out there."
But, Hightower says if investigators are looking for stolen items, they're barking up the wrong tree by looking at secondhand stores.
Fred Hightower: "Somebody came in and sold me that rusty old tricycle. Somebody came in and sold me that piece of farm equipment. Do you think, probably, that's stolen goods?"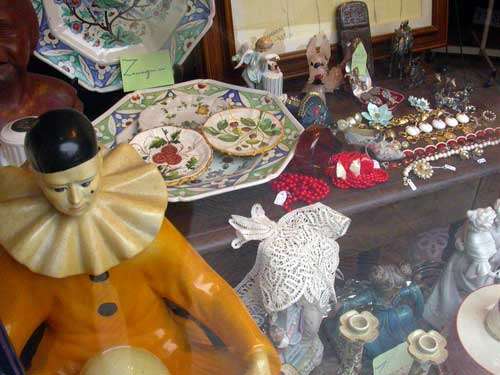 This is just part of the debate between lawmakers and store owners. Luckily for Hightower, his store would be exempt from this law. Representative Lockhart says there are many exceptions under the bill, like antique stores, consignment stores, used car dealerships and one more big exception.
Rebecca Lockhart: "One of the large exemptions has to do with Internet sales. The Internet is something that the state can't regulate. In fact, the federal government is having a hard time regulating the Internet."
This doesn't sit well with Hightower who says online secondhand retailers would have an advantage over stores under this rule. Another exemption would be small businesses that make less than 50 transactions a month. Hightower says no business makes that amount of transactions and stays afloat.
Fred Hightower: "It is extremely small. It's just, what is it, 1.6 transactions a day?"
Hightower says some secondhand stores he works with would need to upgrade their computers and get business Internet for their stores, and those costs add up. However, Representative Lockhart says businesses who deal with secondhand goods should follow similar laws.
Rebecca Lockhart: "My interest, as much as it is in recovering people's property is also in, if you will, in equal protection or treating the same kinds of businesses in the same way."
Lockhart says she's waiting for the bill to be signed by the governor and has not received any word that he won't.
×
Most recent Utah stories