Estimated read time: 1-2 minutes
This archived news story is available only for your personal, non-commercial use. Information in the story may be outdated or superseded by additional information. Reading or replaying the story in its archived form does not constitute a republication of the story.
Sandra Yi ReportingAnother holiday weekend is coming up and Police plan to be out in force, busting drunk drivers. One arrest today reinforces their message.
State Police say a man was drunk when he ran over the edge of an overpass at I-15 and 400 South. The drop is about 30 to 40 feet.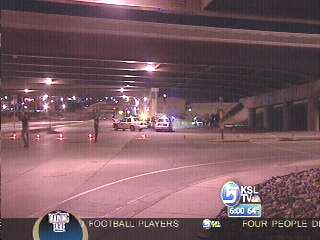 It all began when a trooper pulled the man over on suspicion of drunk driving. He performed a field sobriety test and determined the man, Joshua Davis, was intoxicated. The trooper went to make an arrest and handcuffed Davis. That's when he took off running, right over the edge of the overpass.
He suffered head trauma and was airlifted to the hospital in serious condition. Davis was
Sgt. Ted Tingey, Utah Highway Patrol: "We're not sure what we're looking at, whether a possible suicide, just wanted to get away, whether he didn't realize he was on an overpass structure, that it was that far down, we're not sure yet."
Police say the man is lucky to be alive. Statistics show, nationwide, alcohol related fatalities are down, but police say when alcohol is present a person is injured or killed every two minutes.
The Utah Highway Patrol kicked off its "You Drink and Drive, You Lose" campaign today. There will be sobriety checkpoints and saturation patrols throughout the state. The blitz, which happens four times a year when people are most likely to be traveling, will continue through Labor Day weekend.
Last year in Utah, police made more than 14 thousand DUI arrests. They say they will continue to arrest and prosecute offenders to the fullest extent. That's in an effort to keep the roads safe.
×
Most recent Utah stories