Estimated read time: 2-3 minutes
This archived news story is available only for your personal, non-commercial use. Information in the story may be outdated or superseded by additional information. Reading or replaying the story in its archived form does not constitute a republication of the story.
SALT LAKE CITY (AP) -- Utah's military installations escaped the federal base closing process almost unscathed this week.
"We are elated," said Vickie McCall, president of the Utah Defense Alliance, the group that lobbied government officials on behalf of Utah's installations.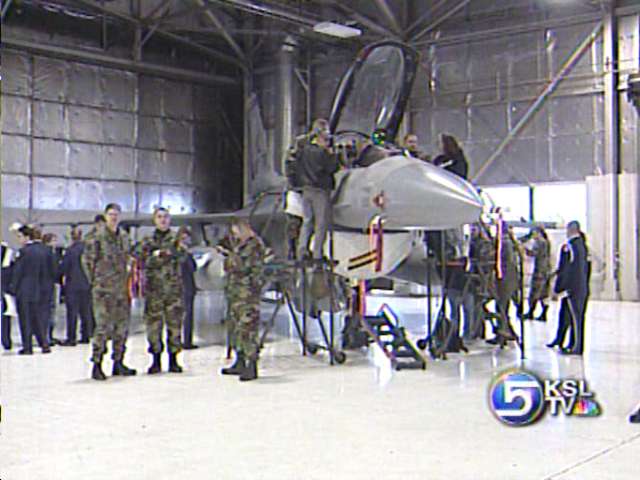 She said they anticipated Utah might lose between 3,000 and 5,000 jobs when the process first started, but the actual number of cuts -- while yet to be pinned down -- will be much less.
"We feel like our efforts paid off," she said by cell phone Friday from a private dining room in an Ogden restaurant, where she and other supporters were watching the Base Realignment and Closure Commission proceedings on television. She had originally planned to fly to Washington, D.C., but later decided that wouldn't be effective since she wouldn't be able to testify or talk to commission members.
The 388th fighter wing at the state's largest military installation, Hill Air Force Base, gained six new F-16 fighter jets for its fleet of about 70 when the commission voted Friday to remove all aircraft from Cannon Air Force Base in New Mexico, McCall said.
Another Hill AFB fighter wing, the 419th, is a reserve unit that was slated to be combined with the 388th in a continuing experiment to merge reserve and active duty personnel and to modernize Hill. The wing's 15 older-model F-16s will be sent to other bases.
"We lose more iron, but we're going to actually have an increase in personnel and capability," McCall said.
She said the combined fighter wings "set us up as the premier fighter wing in the country."
"It positions Hill well for the future," added Adam Elggren, spokesman for U.S. Sen. Orrin Hatch, R-Utah.
The commission decided Thursday that Hill Air Force Base will not have to give up its personnel offices, possibly saving about 300 jobs.
No one knows for sure how many jobs will ultimately stay in Utah, but Steve Petersen -- the BRAC coordinator for the Utah congressional delegation -- says the belief is that potentially all will be preserved.
The commission will probably finalize final job numbers in the next week, said Petersen, who also is a policy adviser for U.S. Rep. Rob Bishop, R-Utah.
The commission also decided this week that the Utah Air National Guard Base should get eight new KC135R jet tankers to replace older models. Petersen said the delegation would eventually like to increase that number to 12.
The commission on Wednesday also changed a Pentagon recommendation to close Deseret Chemical Depot, instead voting to have the military conduct a study to see if the depot near Tooele can be reconfigured to demilitarize conventional weapons.
The commission will forward its recommendations by Sept. 8 to President Bush, who has until Sept. 23 to accept or reject the list in its entirety.
Associated Press writer Jennifer Talhelm in Washington, D.C., contributed to this report.
(Copyright 2005 by The Associated Press. All Rights Reserved.)
×
Most recent Utah stories