Estimated read time: 5-6 minutes
This archived news story is available only for your personal, non-commercial use. Information in the story may be outdated or superseded by additional information. Reading or replaying the story in its archived form does not constitute a republication of the story.
FORT LAUDERDALE, Fla. (AP) -- Flooded streets resembled canals, sailboats sat on the sand and a highway overpass lay in ruin Friday in the hours after Hurricane Katrina plodded across South Florida.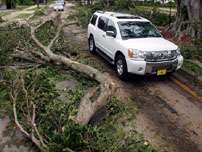 Four people were killed, a family of five was missing at sea and more than a million homes and businesses lost power before the storm moved west to emerge over the Gulf of Mexico.
The state's troubles were not over, however. More heavy rain and strong wind was likely Friday in South Florida, and Katrina was expected to grow stronger and perhaps make a second landfall in the Florida Panhandle early next week.
Katrina's first Florida land strike came Thursday night along the line between Miami-Dade and Broward counties.
Rain fell in horizontal sheets, seas were estimated at 15 feet and sustained wind was measured at 80 mph, with gusts reaching 92 mph. Up to 11 1/2 inches of rain fell on Miami-Dade County.
"This place went bananas last night," said John Vazquez, 62, who rode out the storm in his oceanfront condominium in Hallandale Beach.
Carolyne and Carter McHyman, also living on the oceanfront, said heavy downpours pelted their windows after the eye passed.
"It's been horrible," Carolyne McHyman said. "Basically all our windows are leaking. We just keep mopping up and taping the windows, mopping up and taping again."
Katrina weakened into a tropical storm over land, but strengthened over the gulf's warm waters and became a hurricane again early Friday with top sustained winds of 75 mph. At 9 a.m. EDT, it was about 45 miles north of Key West and 65 miles south of Naples. It was emerging over the Gulf of Mexico, heading erratically westward at 6 mph, and was expected to continue gaining power.
"Maybe we can get rid of the phrase minimal hurricane," state meteorologist Ben Nelson said Friday. "There is no such thing as a minimal hurricane."
Gov. Jeb Bush urged residents of the Panhandle and northwestern Florida -- areas hit by Hurricane Ivan last year and Hurricane Dennis this year -- to monitor the storm and make preparations. He said he has asked for federal disaster assistance for Miami-Dade and Broward.
The hurricane was hindering the Coast Guard's search for a family of five who went out boating Thursday morning from Marathon and never reached their destination of Cape Coral on Florida's southwestern coast. Edward and Tina Larson and their three children, ages 17, 14 and 4, were aboard a 24-foot pleasure craft.
"Unfortunately that hurricane is sitting right on top of my search area," Coast Guard Lt. Cmdr. Jeff Smith said Friday.
Three people were killed by falling trees: a man in his 20s who was sitting alone in his car in Fort Lauderdale, a 54-year-old man in Plantation, and a woman who died at a hospital in Hollywood.
A 79-year-old man in Cooper City died when his car struck a tree, officials said.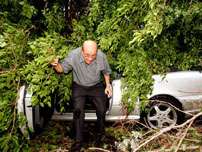 Among the injured was a driver in critical condition in Hollywood after a tree fell on his car, said Frank Sacco, CEO of Memorial Healthcare System.
Sailboats had washed up onto the Key Biscayne beach on Friday morning. Most lay tipped on their sides, some with ripped sails flapping in the wind. About 10 boats at the Coconut Grove marina had been pulled from their moorings and thrown on the rocks.
In the Florida Keys, a tornado damaged a hangar and airplanes at the Marathon airport, the Monroe County Sheriff's Office said. Two nearby homes were damaged, and part of the roof of a lumber company collapsed, deputies said.
Fifteen to 20 small planes were damaged at Kendall-Tamiami Executive Airport in Miami-Dade County, said aviation spokesman Mark Henderson.
The power outages were concentrated in Miami-Dade and Broward counties, where more than 1.2 million Florida Power & Light customers were in the dark early Friday. Service was restored to about 100,000 customers.
In Key Biscayne, dozens of families were forced to evacuate their homes after they became swamped in 3 feet of water.
Three mobile home parks in Davie sustained considerable damage, including lost roofs. One person was trapped inside a mobile home, but officials did not know whether the person was injured, according to the Broward Emergency Management Agency.
An overpass under construction in Miami-Dade County collapsed onto a highway, authorities said. No injuries were reported, but the freeway -- a main east-west thoroughfare -- was closed for 20 blocks.
The hurricane emptied the usually bustling streets of Miami Beach, a tourist haven with its nightlife and restaurants. The city is hosting celebrities and partygoers in town for the MTV Video Music Awards. MTV called off its pre-awards festivities Thursday and Friday.
"It's like a ghost town out here," said Mark Darress, concierge at The Astor Hotel in Miami Beach.
Yet dozens of surfers and spectators lined the beaches to take advantage of the massive waves on the normally placid seas.
"This is the best of both worlds because it'll bring great waves, but it is not at all dangerous," said surfer Kurt Johnston, 22.
Tourists and others hoping to get out of town before the storm were stranded as airlines canceled flights at Miami and Fort Lauderdale airports, which both closed Thursday night. The Fort Lauderdale-Hollywood International Airport was expected to reopen Friday with limited flights. Miami International Airport officials have not decided when it will reopen.
Katrina, which formed Wednesday over the Bahamas, was the second hurricane to strike Florida this year and the first to make a direct hit on Broward County since a destructive Category 4 hurricane in 1947.
Four hurricanes hit Florida last year, causing an estimated $46 billion in damage across the country.
Katrina is the 11th named storm of the Atlantic hurricane season, which began June 1. That's seven more than typically have formed by now in the Atlantic, Caribbean and Gulf of Mexico, the National Weather Service said. The season ends Nov. 30.
------
On the Net:
National Hurricane Center: http://www.nhc.noaa.gov
(Copyright 2005 by The Associated Press. All Rights Reserved.)
×
Most recent News stories