Estimated read time: 2-3 minutes
This archived news story is available only for your personal, non-commercial use. Information in the story may be outdated or superseded by additional information. Reading or replaying the story in its archived form does not constitute a republication of the story.
Shelley Osterloh Reporting For some Catholic youth, today turned out to be what they called the opportunity of a lifetime.
I called around to some of the Catholic high schools to see if any were watching the installation on the Internet and found that each of the three Wasatch Front Catholic schools was sending students to act as greeters. As bishops, priests, and dignitaries arrived, students from Utah's Catholic schools met them with a smile and, if needed, instructions.
Judge Memorial High School in Salt Lake City, Juan Diego in Draper and St. Joseph's of Ogden each sent 10 students to act as ambassadors.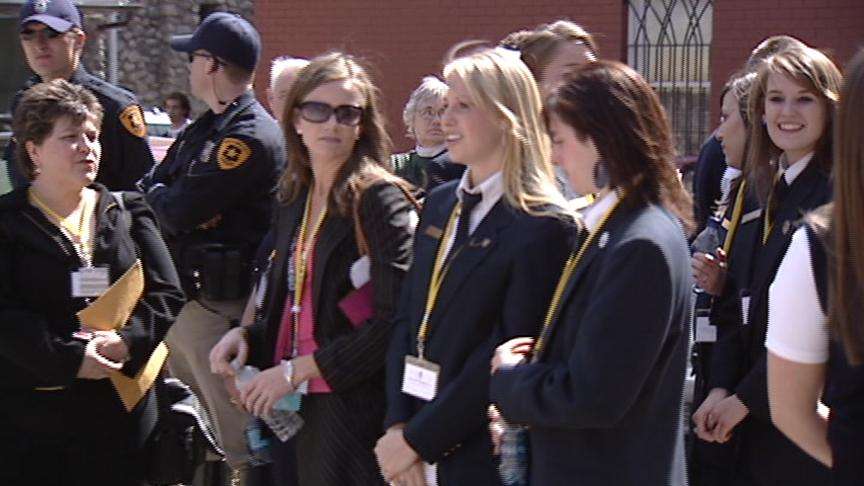 And even though Bishop Wester has a lot on his mind, he stopped to say a few words.
Bishop John Wester, to students: "Thank you very much. Did you arrange this nice weather, too?"
Students say they are excited to see and learn more about the man who will lead their community.
Patrick Abel, St. Joseph High School: "We've been without a bishop for a bout a year and half, so it'll be nice to get a new bishop in. I haven't met him personally, but he seems like a nice guy." Rebecca Bossart, Judge Memorial High School: "I knew he was a teacher, at one point interested in education."
And for others it's a chance to participate in a major event for Utah Catholics.
Tyler Boegler, Judge Memorial High School: "The school I go to, Judge, and Juan Diego—it's a big rivalry, but today it's like, 'No, we are together; we are one, we are Catholic high schools.' It's really nice."
Ali Lamb, Juan Diego student body president: "I personally escorted in Bishop Wester's family, which they are the nicest people -- I talked to his sister, they got in yesterday -- as nice as could be. The governor is here, the first presidency of the Mormon Church is here. Just everywhere you look, royalty, everyone, so friendly. It's been an awesome experience."
The students were supposed to watch an Internet video feed of the installation Mass but last I heard couldn't get the signal. But they still got to rub shoulders with some important people.
×
Photos
Most recent Utah stories