Estimated read time: 2-3 minutes
This archived news story is available only for your personal, non-commercial use. Information in the story may be outdated or superseded by additional information. Reading or replaying the story in its archived form does not constitute a republication of the story.
Alex Cabrero Reporting"It used to be a peaceful drive. Now, it's a dangerous one."
This man has had enough, after an 18-year old was killed this afternoon in Parleys Canyon. Eight people were inside the vehicle that rolled several times in the canyon. Police say the driver was speeding. It's something they're seeing more and more of lately.
It seems you can't say it enough times, everyone who speeds doesn't think something wrong will happen to them. That's probably what these teenagers thought; now one of them is dead and it's not the driver.
Clay Morgan: "They came off the summit here at a high rate of speed."
Eight teenagers were in the vehicle.
Clay Morgan, Utah Highway Patrol: "We do know we have one fatality on scene."
And state troopers say it's all because the driver was speeding. They were coming up fast on an 18-wheeler, the driver swerved to avoid it, but lost control and rolled several times.
Rick Halliday has seen this kind of crash more times than he would care to. He lives in Summit County, travels Parleys Canyon everyday, and everyday he feels like he's in NASCAR.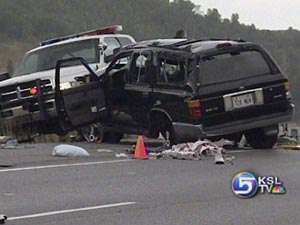 Rick Halliday, Summit County Resident: "That's like a speedway. Everyone wants to show you how fast they can go in a fast lane."
So we wanted to know for ourselves what it's actually like to drive up Parley's Canyon, while doing the speed limit. We did 65 miles per hour to find out how other drivers would react to us.
Right away several cars passed us. We were just in the way.
Clay Morgan: "It is very rare to find a vehicle going 65 miles per hour."
All the way up and down we never passed a single car.
Clay Morgan: "My average speed of cars was 80 to 85 miles per hour, and I had two at over 100 miles per hour I caught."
That's unacceptable, unless you want to die.
Rick Halliday: "Yeah, I mean come on. Give me a break. We live in a great place, it's the good life. What's the hurry?"
Eighteen-year old Sonephalang Bo Chaleunrath died in the crash; he wasn't wearing his seatbelt. 14-year old Mercedes Khamphanh and 15-year old Anthony Sor are in critical condition. 17-year olds Claudette Cabalbbag, Jessica Sok, the driver, and Tony Taing are in poor condition. Amy Homsombatch and Diana Boribouy are in good condition.
All these teens are friends, and go to the same school. It's not the way to start the year.
×
Most recent Utah stories