Estimated read time: 2-3 minutes
This archived news story is available only for your personal, non-commercial use. Information in the story may be outdated or superseded by additional information. Reading or replaying the story in its archived form does not constitute a republication of the story.
Richard Piatt ReportingOf the hundreds of bills Governor Huntsman is signing this month, one has special interest to a Salt Lake City barbershop owner.
The bill affects the way Utah licenses the people who decide to go into a profession that has a lot of history, but not a lot of frills.
There are a lot of men who like barbershops because it's a no-frills haircut. But the requirements to be a barber are anything but no-frills; you have to know how to color, perm and do nails.
One of the bills Governor Huntsman signed today changes that, and that's music to Ray Francom's ears.
He's been cutting hair since he was 15. He's in his mid 20s now, owns his own shop, and is worried about how many people his age are going into barbering, which isn't many. He thinks the reason for that is that barbers have to go to beauty school and learn how to color and perm hair. He'd rather just cut hair and give a close shave--the traditional stuff.
House Bill 419, which is now law, creates a barber's-only license.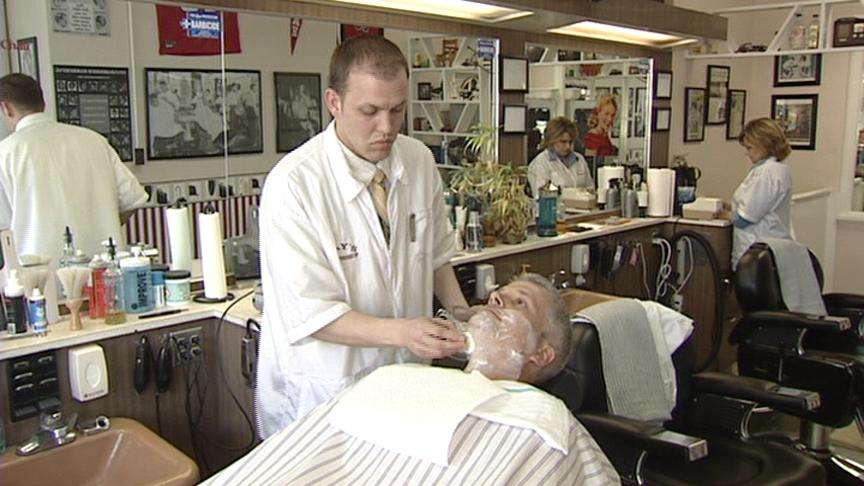 Ray talked to us about it while he was using a straight-edge razor for that extra-close shave.
Ray Francom, barbershop owner: "I think it's an opportunity for this profession to be revived. If you look around now, a lot of the guys are old guys that went to the old school. And they're closing down their shops. And I've had a lot of customers comment that they're having trouble finding the old-style barbershop."
Francom's father and grandfather were barbers. But he says he almost DIDN'T go into the profession because of the licensing rules. He's glad he did, though. And apparently, so are his customers, who like getting a shave and a haircut if they want it, in a "guys" atmosphere.
There is a lot of tradition in barbering, from the tools to the scented powder. Somehow, it got lumped in the more cosmetic aspects of keeping up appearances at beauty salons. But the Legislature, among everything else this year, voted to keep it simple for barbers.
×
Most recent Utah stories