Estimated read time: 2-3 minutes
This archived news story is available only for your personal, non-commercial use. Information in the story may be outdated or superseded by additional information. Reading or replaying the story in its archived form does not constitute a republication of the story.
Sandra Yi ReportingAn LDS primary teacher accused of molesting three girls was found guilty on all counts. The jury reached the verdict in the case of Aaron Montoya in just three hours.
This has been a very emotional case for everyone involved. As the verdict was read, people in the packed courtroom burst into tears. Even some of the jurors began to cry.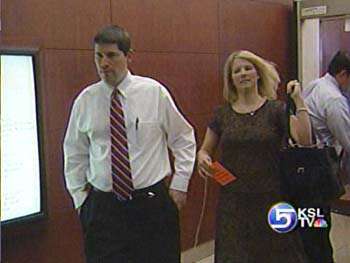 Aaron Montoya began to shake as he heard the verdict: Guilty on all four counts of aggravated sexual abuse of a child. He was immediately taken into custody.
This case involves three girls, ages five and six, who Montoya molested in a primary class last year. During the two day trial, the jury heard from the young victims. One of them said she was coloring a picture of Jesus when Montoya came up behind her and reached up her skirt.
What's made this case even harder for everyone involved, is that Montoya worked in law enforcement. He was also a good friend of some of the victims' families.
After the verdict was read, all three of the victims' parents told the media justice has been served.
Jed Davies, Victim's Father: "The girls were honest, told the truth, they were heroes for themselves and other people, other little kids."
Bill Curtis, Victim's Father: "It was liberating, it was empowering for those children to face this perpetrator and to point out Aaron Marcus Montoya and say, 'He did this to me, he did bad things to me.'"
All along, Montoya has denied touching the girls in a sexual way. His attorney argued that there were inconsistencies in the girls' stories. He also said that Montoya never said anything to them after these incidents occurred, which indicates he wasn't trying to cover it up.
Syracuse police say Montoya has been charged in cases involving three other girls, one of them his foster child. Those cases go back four to five years. He'll be in court on those charges in October.
The judge set a sentencing date for this case on October 26.
×
Most recent Utah stories