Estimated read time: 2-3 minutes
This archived news story is available only for your personal, non-commercial use. Information in the story may be outdated or superseded by additional information. Reading or replaying the story in its archived form does not constitute a republication of the story.
Carole Mikita Reporting How many languages do you speak? If the answer is only one, a group meeting in Salt Lake City today would tell you that's not enough.
Today, I talked with those attending the Translation Summit.
Today's meeting is the only such gathering in the country in which translators and representatives from government, industry and education get together to discuss mutual needs. Their message is that international language skills are vital in today's world.
Everette Jordan of the Defense Intelligence Service speaks English, German, Spanish and Russian. The more than 200 people who gathered for this Translation Summit are all multilingual and believe this profession has reached a crisis level in the U.S.
Juri Staskuhl, American Translators Association: "There are lives at stake, that without translators or interpreters, there will be no communication among countries."
Alfred Mockett, chairman & CEO, Motive, Inc.: "It is a requirement for our national security that we spend more time and attention on language and international studies in our school system. The current generations of translators and educators are reaching retirement. Who is going to backfill?"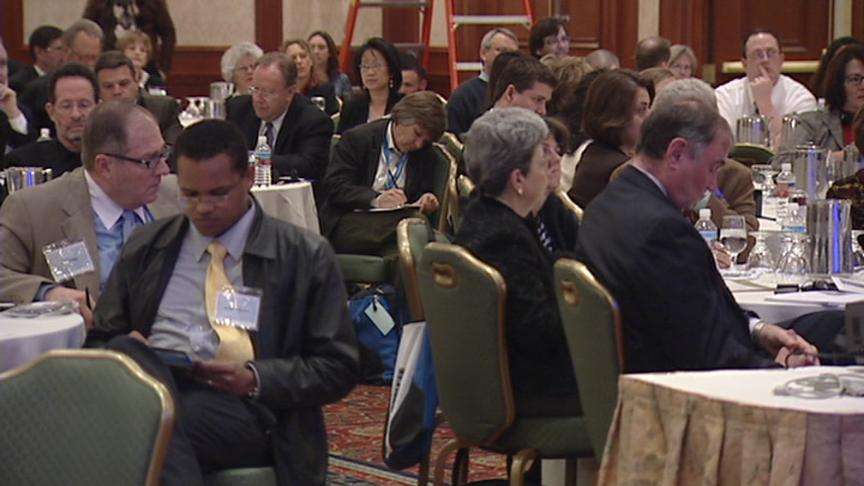 Fewer than 10 percent of American college students enroll in foreign languages classes, except in Utah where it's more like two-thirds.
Amanda Montecinos, vice president, MultiLingual Corp.: "Something great about people from the United States: They like to learn, and they like to communicate. They just need to be given that opportunity."
Speaking another language has become vitally important not only to national security but to diplomatic relations. For the first time, a representative of the United Nations is attending this summit.
Until now, the U.N. has recruited through its own competitive examinations--needing people who speak, read and write the official languages. The U.N.'s official languages are Arabic, Chinese, English, French, Russian and Spanish.
Stephen Sekel, director, documentation division, United Nations: "As we now face, like other organizations, critical shortages of really qualified language staff, we really recognize the need for outreach to the translation community."
Together, this group hopes to create outreach to schools, encourage more people to become professional translators and improve international computer language skills.
BYU's Center for Language Studies hosted this meeting with support from the Governor's Office of Economic Development.
×
Most recent Utah stories