Estimated read time: 2-3 minutes
This archived news story is available only for your personal, non-commercial use. Information in the story may be outdated or superseded by additional information. Reading or replaying the story in its archived form does not constitute a republication of the story.
John Daley ReportingMore questions than answers tonight in a bloody death in West Jordan. What we know is one man is dead. Another man killed him and their fight may have started over a woman.
Capt. Gary Cox, West Jordan Police Dept.: "It looks like a relationship, possibly over a woman."
But police don't know yet whether a crime was actually committed. No gun was used. No knife either. The man died from a blow with a coffee mug.
Police say they're still trying to figure it all out. They have a victim, a possible suspect, a weapon, but how this all came about they're still not sure.
The two men got into a fight at an apartment building in the area of 70th South and 13th West in West Jordan. Witnesses say there was a heated argument and one man hit the other man with a ceramic mug. The mug broke and a sharp edge lacerated the other man's neck. Paramedics tried to save him, but couldn't. Seeing so much blood, the suspect ran, but not for long.
Capt. Gary Cox, West Jordan Police Dept.: "After the victim fell down, succumbed to his wounds. The suspect, we'll call him that at this time, left the scene but then returned."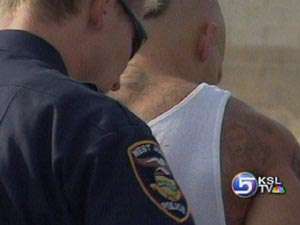 Police arrested the man after he came back. They put hand-cuffs on him and took him to the station for questioning. There's no doubt he caused the other's death, but this is not a typical homicide case.
Capt. Gary Cox, West Jordan Police Dept.: "That makes it all the more difficult for us in this situation. We've got to be all the more careful to determine whether charges are appropriate or not."
The victim's name hasn't been released yet. He was 27-years old. As for the suspect, police have not yet released any information on him.
×
Most recent Utah stories