Estimated read time: 2-3 minutes
This archived news story is available only for your personal, non-commercial use. Information in the story may be outdated or superseded by additional information. Reading or replaying the story in its archived form does not constitute a republication of the story.
Gene Kennedy ReportingThe Grantsville community is grieving the loss of a 17-year old girl who died last night in a head-on crash. The teenager would have been a senior this year.
The first day of school at Grantsville High wrapped up a few hours ago. Who would have thought it would start with such tragic news? Kamie Lee Snyder was in a home study program the last two years, so the students didn't expect to see her there this morning, but no one thought they would hear of her death during this morning's announcement over the school's PA.
She always had a good story to tell, lots of energy, and very determined to graduate from Grantsville High School.
The school secretary remembers 17-year old Kamie Snyder.
Sandy Fraser, School Secretary: "You get to know the kids personally one-on-one, and it's like they're a part of you and you're a part of them."
Abi McNeill, Senior: "You can feel that someone's missing. She wouldn't have been here anyway, but someone is missing and we all know who she is."
A balloon now serves as a memorial in the spot where Snyder lost her life last night. It was just before 10:00 last night when a car crossed the center line on Highway 138, smashing head-on into Snyder's Chevy Cavalier. The airbags couldn't save her.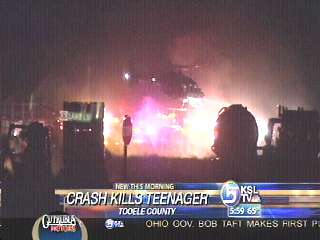 Sandy Fraser: "I just keep thinking about her poor mom and the fact that all she wanted to do is graduate from high school."
The car that hit Snyder had a family inside, a mother and her four children. When they hit Snyder's car their SUV burst into flames, temporarily trapping them. Passersby took action.
Lt. Mike Rapich, Utah Highway Patrol: "There were enough flames around them that the citizens were helping keep the flames away from the children."
The Highway Patrol expects them to survive. The mother, Shannon Lowe, is in critical condition tonight, but her children are much better. In fact, one child has already been treated and released from the hospital.
A big question remains: What caused this vehicle to crash? Investigators are hoping that once the mother recovers, she can shed some light on it.
×
Most recent Utah stories