This archived news story is available only for your personal, non-commercial use. Information in the story may be outdated or superseded by additional information. Reading or replaying the story in its archived form does not constitute a republication of the story.
WEST JORDAN -- Parents, teachers and students voiced their opinions in front of the Jordan District School Board Tuesday night. Hundreds showed up to discuss the district's $30 million shortfall and impending layoffs.
School board gets an earful from angry parents
Those who gathered inside the Jordan Services Building were frustrated, and the room couldn't have been more packed. Roughly 350 people squeezed in; some sitting on the floor, some standing, everyone fanning themselves because it got so hot.
About an hour after the meeting was supposed to begin, the West Jordan Fire Marshal ruled that everyone without a chair had to get out. Around 100 angry citizens left.
"They should have scheduled it in a bigger place," parent Donna Froerer said. "They knew this was the way of limiting who could have access to it. It's wrong."
Outside, organizers had students and teachers hold a banner with the faces of 250 teachers. They were supposed to represent how many could be laid off because of the cuts.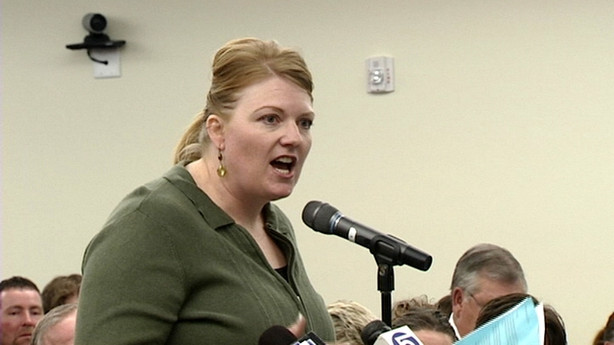 "There are faces and lives and futures, and I don't mean my future so much as I mean the future of the students. Their futures are at stake," says Riverton High School teacher Jenicee Jacobson.
"I'm a taxpayer, I'm a parent, and only an idiot would fire teachers," said Stacey Norton.
"We have a pretty big class already, and I don't want it to get much bigger," said Oscarin Lopez, fifth-grade teacher at South Jordan Elementary School.
In addition to the layoffs, class sizes are supposed to increase by four students, on average. Programs could get cut, and teachers are talking about suspending extracurricular activities.
Several teachers and PTA members proposed raising property taxes by 20 percent, but one parent who spoke at the meeting said "absolutely not."
"Find other solutions. Put the Legislature to the test. Fight for this, but do not put it on my back and tell me for the next 20 to 30 years I live in West Jordan to pay for this," Corinne Gardner said.
Even with all this feedback, it may be too little, too late.
"We've never had anyone come to our meetings -- a few teachers here and there -- so I worry that everyone is here after the decision has been made," said Jordan School District spokeswoman Melinda Colton.
No decision came out of Tuesday's meeting. Originally, the topic wasn't even on the agenda; but in the end, the board listened. We'll have to wait and see if anything changes.
Pickets planned
The Jordan Education Association plans to picket at parent/teacher conferences Wednesday and Thursday nights.
Bingham High School teacher Scott Crump said, "This is an informational picketing. They are going to be handing out information explaining why the teachers are upset."
The association plans to distribute literature from 4 to 7 p.m.
Some teachers say they're prepared to strike, despite a memo from Superintendent Barry Newbold Monday telling employees it's illegal and could result in termination.
Lawmakers feeling the heat
The issues brought up at Tuesday night's meeting have been brewing for quite some time. Lawmakers say they are feeling the pressure, but there are no easy solutions.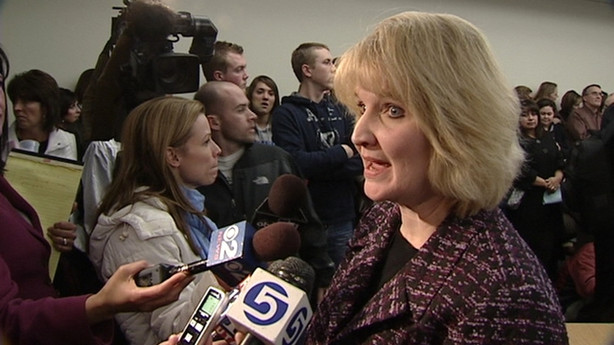 Republicans from western Salt Lake County are pushing bills they say will make education funding more equitable.
"Everyone is looking after their own district, and somehow we have to get everyone to understand that every child in this state is important, and we need an equalization program that's positive for every child in this state, not one or two districts," said Rep. Steve Mascaro, R-West Jordan.
Much of the heat comes from a controversial district split. Leaders of the Canyons District view a new district equalization bill as an end-run around a split they say has already been settled by the Legislature and the courts. They say they're already paying their fair share.
One powerful east-side senator says that first, school districts need to innovate and consider year-round schools to grapple with a growing need to build new school buildings.
Sen. Howard Stephenson, R-Draper said, "I'm just issuing a warning cry, that if they continue with the current paradigm their taxpayers will have a doubling of their taxes."
The Utah Education Association sees Jordan as a symptom of a growing problem: the district split, the downturn in the economy and a recent change in the state tax structure together have left Utah schools a billion dollars in the hole.
Kim Campbell, president of the Utah Education Association, said, "It's a political hot potato, and it's exacerbated by what's happened to public education funding over the past decade."
------
Story compiled with contributions from Nicole Gonzales and John Daley.
×
Photos
Related Links
Related Stories