Estimated read time: 3-4 minutes
This archived news story is available only for your personal, non-commercial use. Information in the story may be outdated or superseded by additional information. Reading or replaying the story in its archived form does not constitute a republication of the story.
DONNELLY, Idaho (AP) -- President Bush took on the California mother who has been defiantly protesting outside his Texas home, saying Tuesday that Cindy Sheehan doesn't represent the views of most military families and that fulfilling demands like hers for withdrawal from Iraq would weaken the United States.
Bush said he understood the anguish of the woman whose son was killed in Iraq last year. But he said he disagreed with her assertion that U.S. troops should be brought home before more die in a "senseless war."
"I think those who advocate immediate withdrawal from not only Iraq but the Middle East are advocating a policy that would weaken the United States," Bush said.
The president said U.S. troops in Iraq are keeping Americans safe and that Iraqis are making progress toward democracy. He urged patience as officials in Baghdad struggle to complete a constitution.
"The fact that they're even writing a constitution is vastly different from living under the iron hand of a dictator," Bush said.
Bush also said Israeli Prime Minister Ariel Sharon had made a tough and courageous decision to withdraw Jewish settlements from the Gaza Strip. He said the next step was to establish a government in Gaza that responds to the Palestinian people.
Bush, dressed in blue jeans and a fleece jacket, spoke underneath the tall pine trees at the Tamarack Resort, where he is spending two nights away from his ranch. His visit to the mountain getaway came between two speeches to rally support for the war -- one Monday in Salt Lake City and another Wednesday in Nampa, Idaho, that is to be followed by more than two hours of private meetings with relatives of dead soldiers.
Bush met Sheehan last year at a similar series of meetings with families of the war dead. But Sheehan says there have been developments since then and she has more she wants to say to Bush.
Her vigil in Crawford, Texas, has given momentum to the peace movement, and even some Republicans have said Bush should meet with her.
"Well, I did meet with Cindy Sheehan," Bush said Tuesday. "I strongly support her right to protest. There's a lot of people protesting. And there's a lot of points of view about the Iraq war."
He added: "She expressed her opinion. I disagree with it."
At a Pentagon briefing, Defense Secretary Donald H. Rumsfeld was asked about Sheehan's vigil and what he would say to her if he had the chance. "While it has to be a heart-wrenching thing for each of the families involved, our task is to try to help them and the country understand the importance of the work that's being done," he said.
Bush spoke once before about Sheehan, during a foreign policy summit at his ranch on Aug. 11. He said then, too, that he sympathized with her but disagreed with her call to bring the troops home immediately.
He said Tuesday, "She doesn't represent the view of a lot of the families I have met with."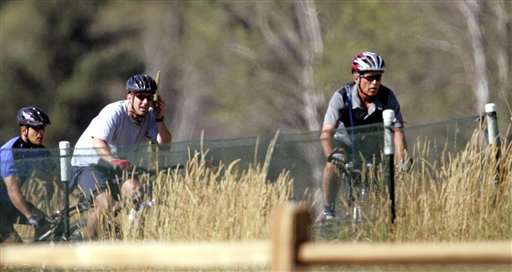 After speaking to reporters, Bush took a bike ride and then had dinner plans with Idaho Gov. Dirk Kempthorne and the state's congressional delegation. He said he also planned to spend some "quality time" with the first lady.
Bush spoke a day after the Iraqi parliament missed a second deadline to approve a draft constitution. Iraqi leaders completed a draft and submitted it to parliament by the midnight deadline, but they delayed a vote for three days to give them time to persuade Sunni Arab negotiators to accept it.
Bush said he was getting updates about Iraq in phone calls with Secretary of State Condoleezza Rice and that she is optimistic that Sunnis will accept the draft.
"The Sunnis have got to make a choice," Bush said. "Do they want to live in a society that's free? Or do they want to live in violence? And I suspect most mothers, no matter what their religion may be, will choose a free society so that their children can grow up in a peaceful world."
(Copyright 2005 by The Associated Press. All Rights Reserved.)
×
Most recent News stories