Estimated read time: 2-3 minutes
This archived news story is available only for your personal, non-commercial use. Information in the story may be outdated or superseded by additional information. Reading or replaying the story in its archived form does not constitute a republication of the story.
NORTHERN UTAH -- A historic era will come to an end later this week in Northern Utah.
The people who've been building space shuttle rockets for more than a third of a century will conduct the last test firing in Utah.
The program is rapidly coming to an end, leaving many questions about the future of the space program -- and thousands of jobs in Northern Utah.
---
The first test was conducted on July 18, 1977.
---
A train will soon carry rockets to Florida for the last scheduled space shuttle launch.
At ATK, formerly Thiokol, they've been making the mammoth rockets since the mid-70s. When there's a shuttle launch in Florida, Harry Reed, ATK Shuttle Program Manager, travels there every time.
"It never fails to bring a lump to your throat," he said.
Reed started in 1983. Gregg Kotter, another ATK program manager, started in 1978.
Final ground test

Thursday Feb. 25
11:50 a.m.
ATK Space Systems facility in Promontory, Utah
"I think one of the memories I have most is of our six children sitting on top of a rental van, just a hooting and hollering, clapping as the shuttle was launched," Kotter said.
Back in Utah, they refurbish and refuel the booster segments after every launch.
But now, hundreds of workers have been laid off as ATK adjusts to life after the shuttle.
---
This final test will be the 52nd test in Utah conducted for NASA's Space Shuttle Program.
---
"It's hard to see people that I've hired on with, my peers and younger people, you know, have to make those adjustments in their lives and families. And that is hard," Kotter said.
On Thursday they're going to set a rocket off. It will be the 52nd firing of a shuttle motor in Utah over the last third of a century.
This time, it will be the last time.
With only four more launches scheduled in Florida, test firings in Utah won't be needed. ATK hopes to continue with the Ares rocket using the same boosters, but President Obama proposes to eliminate the Ares too, hoping industry will develop a cheaper, more up-to-date technology.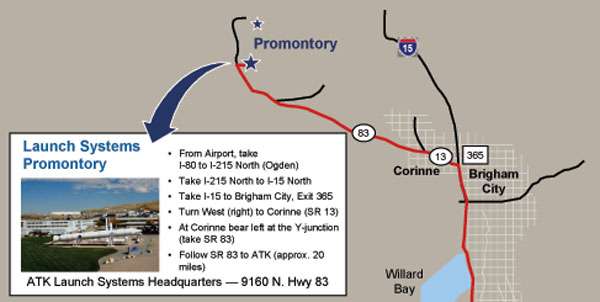 "I believe that we will develop something better in the future," Reed said. "But at this point in time I don't believe there's another product that delivers more, that is safer and more reliable than what we have to offer."
The fight in Congress over the space program is just getting started.
"I like to think that we're maybe in the first or second inning of a ball game and there's a lot of innings, a lot yet to happen," Kotter.
The last test firing on Thursday is a two-minute burn with a full four-segment space shuttle booster.
It's set for just before noon and it is open to the public.
E-mail: hollenhorst@ksl.com
×
Photos
Related stories
Most recent Utah stories