This archived news story is available only for your personal, non-commercial use. Information in the story may be outdated or superseded by additional information. Reading or replaying the story in its archived form does not constitute a republication of the story.
WEST JORDAN -- Utah Rep. Jim Bird is sponsoring a bill that would equalize the money school districts get after they split. It comes as the Jordan School District tries to figure out its financial future.
Last year, the east side of the Jordan School District in Salt Lake County split off to create the Canyons School District.
Bird, R-West Jordan,is sponsoring House Bill 292. The bill can be looked at like a divorce hearing. The Canyons School District has a higher tax base, so the Jordan School District, for lack of a better term, is asking for child support.
That extra money will help the Jordan School District to better take care of its children while getting back on its feet after the split. "What we're trying to do is bring it back to pre-split levels," says Bird.
Bird says before the split, Jordan schools received about $1,600 per student from the state. After the split, Jordan went down to about $1,200 per student, while the Canyons School District received roughly $2,200 per student.
"The Constitution of the state of Utah requires that every student in the state of Utah get and obtain an equal education. That's not happening," Bird says.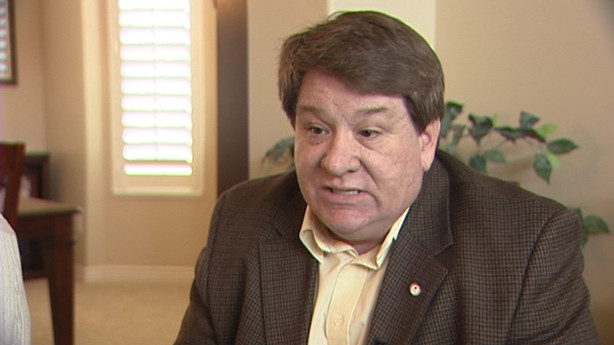 If House Bill 292 passes, both districts would be equalized back to the pre-split $1,600 per student.
"When it comes to education, I believe every child deserves a free, high-quality education," says Jolynne Alger, a parent who has one child currently in the Jordan School District. "This bill is a win-win situation for the west side and for the Jordan district."
Alger held a meeting with other concerned parents and PTA members at her South Jordan home Saturday morning. The group is planning to rally at the state Capitol and at other locations to try to convince legislators to pass the bill.
"Our financial hole is so deep that just looking up from this hole, as a parent, seems like a lose-lose situation. There doesn't seem like a good way out," says Alger.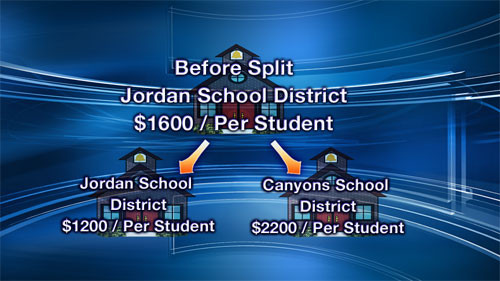 Then she heard about House Bill 292 and figured it could make up about half of Jordan's $30 million shortfall.
"This bill, when I first heard about it, gave me the first spark of hope that I've had in a long time," says Alger.
Many other concerned parents feel the same way. "It's very important," says Alishia Huefner. "I think it will reap long-term benefits for our children."
If House Bill 292 doesn't pass, the Jordan School District says it will have to lay off 500 employees, including 250 teachers, to help make up the $30 million shortfall.
"We lost a significant amount of our tax base and from that, we've lost revenue," says J. Dale Christensen, a member of the district's Board of Education.
Christensen says the split had a great deal to do with the current budget deficit. "It's overwhelming and when you look at the impact it will have on individuals, then that's the thing that gives us grave concerns," he says.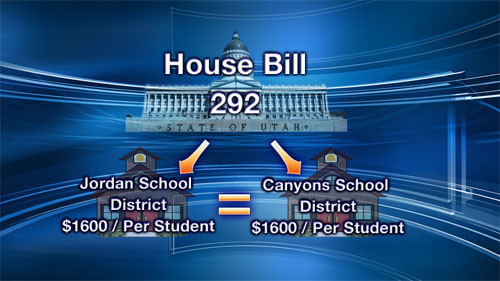 One impact will be classroom size.
"It's scary," says Christie Jarrard, a special education teacher for Eastlake Elementary School. "It's scary to think that our children are going to be in classes where the sizes are so large that the teachers have no time to give them extra individual attention."
Huefner agrees. "They can't," she says. "At that point, it's babysitting. It's not educating."
Jarrard also thinks more cuts to the Jordan School District will start to impact the quality of teachers who work there.
"We're working harder for less money. We've got more students in the classroom and more children to teach and we're making less money," she says. "Who is going to want to teach here under those conditions?"
Even if House Bill 292 passes, cuts will still have to happen in the Jordan School District. However, the district says the cuts won't be so severe.
"No matter what we do, it'll impact education. The Jordan School District will not look the same for the foreseeable future," says Christensen.
There are those in the Canyons district who believe since they have a higher tax base, that money should go to their students.
It issued a statement, which reads, in part, "Currently, schools Canyons inherited from Jordan School District require $647 million in needed repairs. And yet Canyons taxpayers are giving Jordan more than $20 million a year to pay debt on new Jordan schools, plus another $3.8 million in equalization."
But parents in the Jordan district say that's not fair to their children.
"This is an issue that has to be addressed. We have to come to grips with this and we've got to make it fair and equitable," says Bird. "If something doesn't develop, there could be the potential for lawsuits in this thing.
CLICK HERE to read the full statement by the Canyons School District.
E-mail: acabrero@ksl.com
×
Related Links
Related Stories