Estimated read time: 4-5 minutes
This archived news story is available only for your personal, non-commercial use. Information in the story may be outdated or superseded by additional information. Reading or replaying the story in its archived form does not constitute a republication of the story.
Shelley Osterloh ReportingSixteen of the top snowboarders competed today in the fifth annual World Superpipe Championships. The invitation-only competition has become one of the premier events on the circuit, with $60,000 in prize money handed out today.
Back to back 540s, 720s alleyopps, fakeys, grabs and hand plants -- some riders are switching it up with tougher tricks and bigger air. The superpipe is one of the biggest --- 500 feet long --- enough to give women riders the speed to show solid amplitude and stylish form.
It's a best-of-three-runs event, and the first run proved the charm for Kelly Clark who won her Olympic medal on this hill in 2002. The 23-year-old shredder was in great form with the biggest air of all the women.
Her friend, 20-year-old Torah Bright, is from Australia but lives in Salt Lake City. She is just coming from an X-Games win. Her clean style and great technique put her in the top spot where she stayed.
A third run from Japan's Soko Yamaoko vaulted her to second.
For these women it's all about going bigger and better.
Torah Bright, Australia, world super pipe champion: "That's what I want to do in the sport: I want to ride like a guy. I want to ride good. (Laughs)"
Kelly Clark, third: "I hope women's snowboard is going to a place where amplitude is going to be incorporated into technical tricks and style not forgotten, either. So the size of the straight airs I was doing today, I hope to see that be the norm for every trick that women are doing, as big as the straight airs."
---
Sixteen of the world's top male snowboarders also competed today for $30,000 in prize money at the World Super Pipe Championship. This is the 5th year Park City Mountain Resort has hosted the event. One of the top riders is an Olympic gold medalist with a big heart.
It's amazing to see the stunts these guys can do, and at Park City Mountain Resort they have plenty of room to ride. This event is all about amplitude: go big or go home, as they say. Some of these guys go 12 or 15 feet above the deck.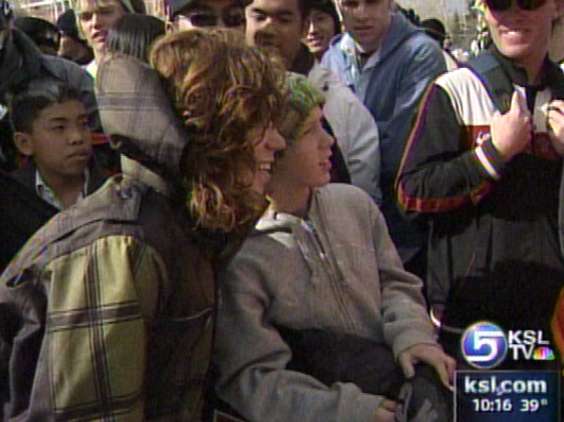 Even the spills are impressive and hard. Jack Mitrani broke his nose on a training run but still performed for the crowds.
Jack Mitrani: "Trying to spin twin, and I didn't spin enough to win so I landed on my face. It's what snowboarding is all about, taking a risk."
Nineteen-year-old Mason Aquirre was the youngest member of the 2006 Olympic Snowboard team in Torino. A solid performance put him in third. In second was Danny Davis, who says this pipe hasn't always been good to him.
Shelley Osterloh: "Have you been in this event before?"
Danny Davis: "I have. I've never done very well, though. I've fallen every year actually, so it feels good to do somewhat well."
But most of the fans came to see Shaun White. He's won just about every snowboarding competition around, including a gold medal in Torino. Once again, his effortless style and amplitude won over the judges and fans.
Shaun White, world superpipe champion: "There are so many little kids out here that are high-fiving me on the way up. That's why I love doing this stuff."
But it was 11-year-old Carter Zenes of Stansbury Park --- who is recovering from heart surgery last month --- who got an autograph from his snowboard idol.
Shaun White: "I have some heart conditions I've been dealing with, not recently, but when I was a lot younger, so it's kind of cool to see kids that have the same thing going on. Show them there's a lot more out there."
And he got something else, too.
Carter's father: "Shaun, you rock, man. Can we get another picture?"
So it was Park City's Shaun White who took home the title and $15,000, but Carter who took home the winning bib.
The World Super Pipe Championships at Park City continue tomorrow, but this time it's skiers in the pipe. The skiers go even higher above the deck because skis go faster. The competition is free to watch and starts at noon.
×
Most recent Utah stories