Estimated read time: 1-2 minutes
This archived news story is available only for your personal, non-commercial use. Information in the story may be outdated or superseded by additional information. Reading or replaying the story in its archived form does not constitute a republication of the story.
Sammy Linebaugh Reporting Fire breaks out at West High School, but fire crews act fast.
The fire happened 10:00 this morning. The fire broke out on the fourth floor. We're told some plumbers were working on one of the restrooms up there, when some fiber glass insulation caught fire.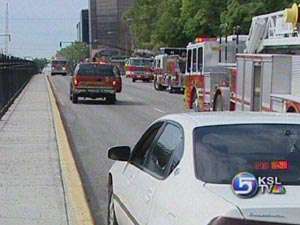 Kelly von Stroh, West High English Teacher: "One of the plumbers came down and asked if there was a fire extinguisher so we got them a fire extinguisher and fire trucks came. It's a small fire. Pretty insignificant."
It was big enough to send smoke billowing down the hallway and force the evacuation of the school. Now, fire crews quickly responded. Because the fire was on the fourth floor, they say, they wasted little time surveying, they just went straight in with hoses to keep the fire from reaching the attic.
Dennis McKone, Salt Lake Fire Dept.: "Once they get into the attic, we have a hard time controlling them because the they start spreading out from all sides."
It certainly could have been much worse. School is set to start in about three weeks and fire crews tell us all damage should be repaired in plenty of time for classes to begin.
×
Most recent News stories