Estimated read time: 3-4 minutes
This archived news story is available only for your personal, non-commercial use. Information in the story may be outdated or superseded by additional information. Reading or replaying the story in its archived form does not constitute a republication of the story.
SALT LAKE CITY -- A bomb threat forced a United Airlines flight to make an emergency landing in Salt Lake City Thursday morning. The aircraft was en route from Denver to San Francisco.
Salt Lake City International Airport spokeswoman Barbara Gann said the plane was cleared by Thursday afternoon, and no bomb was found. The FBI won't comment, but airport officials said there have been no arrests that they know of.
All 161 passengers on United Flight 741 have also been cleared.
The plane landed in Salt Lake around 10 a.m. As a safety precaution, it was parked on the north end of the airfield, away from the terminals.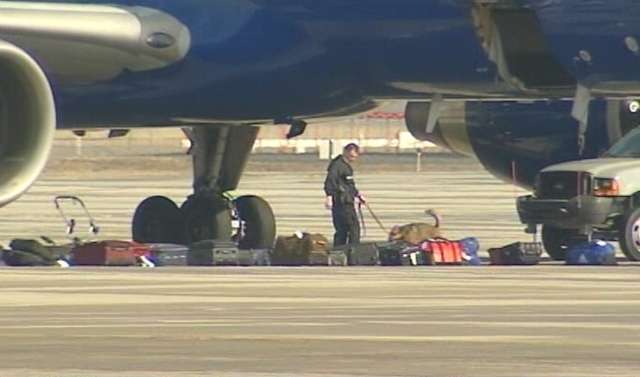 Crews removed the passengers' luggage and laid it out on the tarmac. Investigators brought in bomb-sniffing dogs to check the bags and the plane's cargo area.
Meantime, buses took all the passengers to the International Terminal.
"They'll be held in that terminal until they can be rescreened and the officials feel like there's enough information gathered that the flight can go on or the next step will take place," Gann said Thursday morning.
The flight was diverted when a flight attendant found the note with a threat about a bomb. Gann didn't know exactly what the note said, where it was found or if any passengers had any contact with that note.
However, passengers on the flight said the pilot made an abrupt turn and told the passengers that a threatening note had been found in the food cart. They said he told them the crew believed it to be credible and needed to land the plane immediately in Salt Lake City.
"I think some people in first class were there when the note was passed to the pilot. Apparently, they had some flight plan information. It was enough to be credible is what I've been told," said passenger Todd Rodbold.
A passenger named Jenna, who declined to give her last name, told KSL News, "I don't really know what anyone can say in that situation that's reassuring. We certainly weren't given a lot of information, and maybe that was best. Everybody seemed to stay pretty calm; so I think, at that point, nobody knows a lot of information."
"I was anxious, I'll tell you that," Rodbold said. "You have time to think about it. The landing was a little different; the [plane] came in high speed and hit the brakes. It was foggy. You couldn't see anything, so it was a little anxious at times."
Many agencies, including the FBI and airport police are working together on the investigation. The FBI said it was not releasing details because of the ongoing investigation.
Around 2 p.m., passengers on Flight 741 were able to go back to the plane and get their bags. They were then brought to Terminal 1, where they were rescreened and re-ticketed.
Passengers told KSL they felt that the situation has been handled well by the United flight crew, though some expressed frustration at having to sit on the plane on the tarmac for an hour knowing a threat had been made.
Airport operations were not affected by this incident.
------
Story compiled with contributions from Sandra Yi, John Daley and Marc Giauque.
×
Photos
Most recent Utah stories