Estimated read time: 2-3 minutes
This archived news story is available only for your personal, non-commercial use. Information in the story may be outdated or superseded by additional information. Reading or replaying the story in its archived form does not constitute a republication of the story.
Dr. Kim Mulvihill ReportingMany men used to consider a diagnosis of prostate cancer almost a death sentence, but thanks to improved detection and better treatment, that's no longer the case. Meet two men who are living proof of it.
A group of prostate cancer veterans are celebrating their survival by climbing Mount Kilimanjaro in Tanzania; it's the highest mountain in Africa.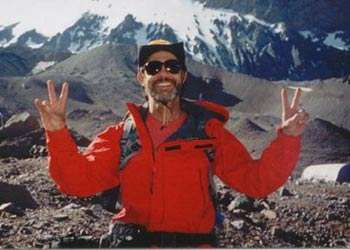 Among them are Ken Malik and Jan Zlotnick, two bay area men who took very different routes to reach this same point. We first met Ken five years ago shortly after he was diagnosed. He chose to adopt a watchful waiting approach, changing his diet and lifestyle dramatically.
Ken Malik, Prostate Awareness Foundation: "Very strict non dairy, no meat diet. I eat a little bit of fish, meditation, exercise, support group. I take a lot of different supplements."
Ken's cancer has now disappeared. Jan in contrast underwent surgery and hormone therapy. The past ten years have been challenging, but rewarding.
Jan Zlotnik, Prostate Awareness Foundation: "These have been the best ten years of my life, and I think a big part of that is kind of waking up to the reality that this is the life I have."
There are other cancer therapies too, including radiation or cryotherapy -- freezing the prostate. The choice of which one to use depends on the individual and the extent of their disease. But every patient needs one thing.
Ken Malik: "The one common thread is a positive mental outlook and feeling like it's not a death sentence and you can overcome it."
After overcoming his cancer, Ken founded the Prostate Awareness Foundation. The goal is to raise one million dollars to educate and to offer other men the support they need to cope with the disease.
At the summit of Kilimanjaro they read out the names of the men who have died from the disease and those back home still fighting the disease.
Jan Zlotnik: "I remember going from the top of the crater to the top of the mountain, which is about 600 feet higher, and crying like a baby, thinking, 'Damn, I've done this and these guys really helped me to get here,' and it felt like family."
They hope their climb will inspire other men to show that prostate cancer is no longer the end; in fact it can even be the start of a whole new life. A fighting spirit and a positive outlook can do a lot for most any chronic condition. It's a valuable lesson for all of us.
×
Most recent News stories