Estimated read time: 2-3 minutes
This archived news story is available only for your personal, non-commercial use. Information in the story may be outdated or superseded by additional information. Reading or replaying the story in its archived form does not constitute a republication of the story.
Dr. Kim Mulvihill ReportingNext Thursday is the American Cancer Society's Great American Smokeout. Every year smoking causes more than 400-thousand deaths in the US. Millions more smokers suffer serious health problems. Kicking the habit is tough; in fact it's one of the hardest addictions to break. But it can be done.
The site of Debi Austin smoking through a hole in her throat shocked many people. It was a graphic reminder of the addictive power, and deadly consequences of smoking. Debi Austin has finally quit. The turning point came when she was babysitting.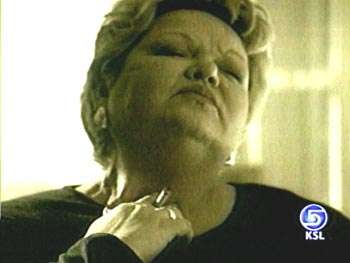 Debi Austin, Anti-Smoking Activist "My four-year old niece came out of the bathroom with a black dot drawn on her throat, so we could be twins. It's pretty powerful."
Debi is now an anti-smoking educator with the American Lung Association. She goes into schools, community centers and workplaces warning people about the dangers of tobacco.
Barbara Apman, Health educator: "It's clearly an addiction, and actually the recidivism rate for smoking cigarettes is the same for heroin and cocaine, which means that most people will have to try to quit smoking four or five times."
Barbara used to smoke four packs a day. She says the biggest help in breaking the habit is a support group with others who are also trying to quit.
Barbara Apman: "People need to feel they are with people who are going through the same things they are going through. They are more comfortable, it also gives them hope that if the person beside them can do it. Then they feel they can do it too."
Pharmacological tools such as nicotine gum, patches, lozenges and nasal sprays mean that smokers no longer have to go cold turkey. Instead they can slowly wean themselves off nicotine.
Some patients may need anti-depressants to reduce feelings of irritability, anxiety or even depression that sometimes accompany quitting.
Others have found alternative therapies such as acupuncture or Hypnotherapy useful.
High taxes mean cigarettes are expensive and tough laws banning smoking in offices, bars and restaurants help discourage smoking. Finally, money from the settlement with the tobacco industry helps pay for anti-smoking materials such as the ads Debi Austin made.
Debi believes the anti smoking campaigns hurt the tobacco industry far more than taking them to court ever could. For her that's payback for all she's lost to 33 years of smoking.
Debi Austin: "You get a chance to give something back. It's like when you wake up from surgery and you realize you have a second chance to go out and do it right. It's pretty awesome. It takes your breath away, ha ha ha."
Quitters across the nation get extra support this week to kick the habit. This Thursday, November 20th, The American Cancer Society will hold its 27th Great American Smokeout. The goal is to help smokers quit for at least one day in hopes they'll quit forever. More people quit smoking on this day than any other day of the year.
×
Most recent News stories