Estimated read time: 3-4 minutes
This archived news story is available only for your personal, non-commercial use. Information in the story may be outdated or superseded by additional information. Reading or replaying the story in its archived form does not constitute a republication of the story.
John Daley Reporting Nancy Pomeroy, communication director, Parents for Choice in Education: "Bless their hearts, they're probably seeing their gravy train leave the station, and it's making them cranky."
Janet Jenson, attorney, Utahns for Public Schools: "I think basically they are just trying to discourage people from having a vote."
The plot thickens in the showdown over school vouchers. It's been called the nation's most far-reaching school voucher program.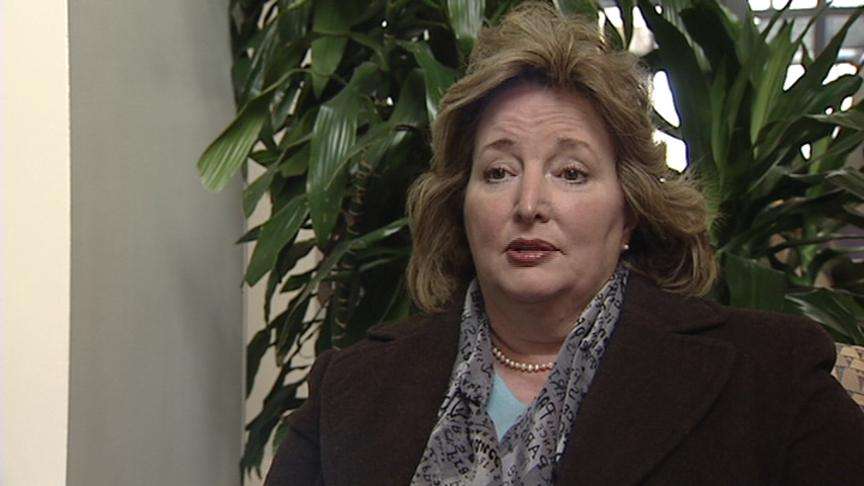 Voucher supporters say a loophole should prevent opponents from challenging the new law and taking it to the voters.
But opponents don't see it that way. Opponents of a new voucher program, which passed through the legislature, are continuing to gather signatures for a referendum drive.
As I discovered, they are undeterred by voucher supporters who say the law can't be challenged.
The bill gives parents between $500 and $3,000 a year to help them pay to send a child to private school. A group called Utahns for Public Schools began stamping petitions on Capitol Hill on Wednesday to be distributed to signature gatherers. The PTA, teachers and the teachers union are backing the effort to put it on the ballot.
Lawmakers in the House passed the measure by one vote. Now both sides are gearing up for a major battle. Voucher supporters say opponents are gathering signatures to challenge the wrong bill, a claim voucher opponents scoff at.
Nancy Pomeroy, communications director, Parents for Choice in Education: "We understand they probably filed a petition against the wrong bill, 'cause 174 supersedes substantially 148."
Janet Jenson, attorney, Utahns for Public Schools: "You know, I think they just don't understand the law. I think we're on very solid ground, and I think you know if they want to challenge it, bring it on. I don't think they'll win."
Voucher supporters point to text in House Bill 174 which reads: "This bill coordinates with House Bill 148, Education Vouchers, by providing substantively superseding amendments."
Supporters feel that means, in plain English, that H.B. 174 is the key voucher legislation. Opponents argue that 148 is the original bill, and it was not replaced with a substitute, so they insist that they've got it right.
We just got these poll numbers back from Dan Jones today. They show, by a solid margin, more Utahns oppose school vouchers than support them and would like a chance to vote on it.
Most Utah parents send their kids to public schools, and an exclusive new KSL-TV/Deseret Morning News poll shows a majority of Utahns don't support a program to give vouchers of up to $3,000 to send a child to private school.
The new Dan Jones poll of 418 Utahns asked: "Do you favor or oppose the voucher system adopted by the governor and the majority of lawmakers?"
39% favor it, while 56% oppose it.
Nancy Pomeroy: "There are a lot of people that honestly don't really understand what education vouchers are about. It's not about taking money from public schools. In fact money for the voucher program does not come from the education fund; it comes from the general fund. There is nothing that's being taken away from public schools."
Some parents and teachers have banded together to form Utahns for Public Schools, which swung into action this week getting petition forms together to put a referendum on the ballot, possibly in November of 2008.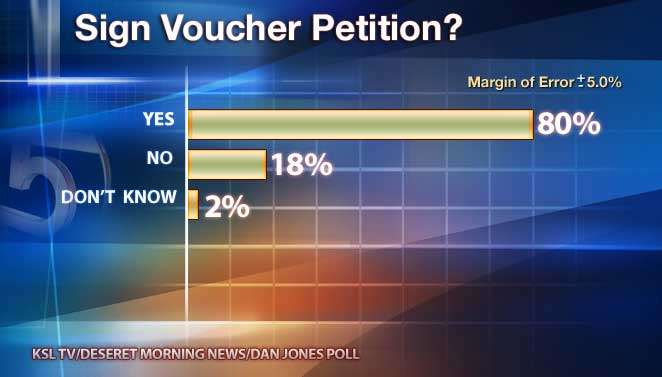 Our poll asked: "Would you sign a petition to allow voters to decide whether or not to adopt school vouchers?"
80% say yes and only 18% say no.
Janet Jenson: "Historically, the legislature is wrong. Voters and parents and citizens want a quality education for all children, and they don't want their tax dollars to be used to fund private schools."
Voucher opponents have until April 9 to gather 92,000 signatures. Their goal is way more ambitious, to get 140,000 signatures by March 22. That is only about two weeks from now.
×
Most recent Politics stories