Estimated read time: 5-6 minutes
This archived news story is available only for your personal, non-commercial use. Information in the story may be outdated or superseded by additional information. Reading or replaying the story in its archived form does not constitute a republication of the story.
SOUTH BEND, Ind. -- Notre Dame's Julius Jones ran for 161 yards on 25 carries, leading the Fighting Irish to a 33-14 win over BYU on Saturday in front of 80,795 at Notre Dame Stadium.
![](http://byu.ksl.com/images/vid_button.gif)
*****Click on desired bandwidth to View Real Video of Game Highlights*
(High Bandwidth Video requires RealPlayer 8 or higher)
"Tyrone \[Willingham\] did a great job in getting these guys ready to play," BYU head coach Gary Crowton said. "They have a great program, have a lot of great athletes, play a tough schedule and just did a great job out there today. I give them a lot of credit for the way they played, especially on the defensive front.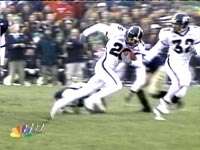 "Julius Jones is an outstanding back," Crowton added. "To watch him down close on the field and see his second-effort and how he's patient, I just think he's an outstanding player."
"Julius has been running very well of late," Notre Dame head coach Tyrone Willingham said. "He has been making things happen. Besides his efforts, there have been others who have been playing well, who have provided a platform for guys like Julius and Rhema McKnight to be successful."
The Cougars continued to struggle with turnovers, coughing up the ball four different times, including three in the first half.
Entering the game ranked 103rd in the nation -- with a minus-10 turnover margin -- BYU turned the ball over in its first two possessions of the game and gave it up twice more throughout the game. The Irish scored six of their 33 points as a result.
"Turnovers continue to plague us," Crowton said. "The players are well aware of the problems that happen as a result, especially when we may be in scoring position, or having a good drive. We have to be accountable for what we're doing wrong."
Notre Dame struck first after J.J. Fitzpatrick connected on a 27-yard field goal with 7:38 left in the first quarter, capping a four --play, five-yard drive that started as a result of a Fui Vakapuna fumble at BYU's own 19-yard line.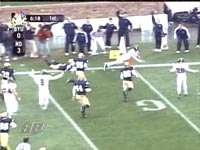 The Cougars looked as though their luck might be changing on the following drive. Rey Brathwaite was credited with 33 of BYU's 76 yards in the four-play drive, giving the Cougars a 7-6 lead. Brathwaite scored on an 18-yard run -- his second rushing touchdown of the season and his first in over 18 quarters.
Notre Dame added two more field goals by Fitzpatrick, including one as a result of another BYU turnover, to take a 9-7 lead with 3:38 left in the first half. Just over two minutes later, Jones lunged in the endzone for a one-yard touchdown, giving the Irish a 16-7 lead.
In the second half, the Irish were all about controlling the ball and consequently, the tempo of the game. The Irish defense held the BYU offense at bay for much of the second half, allowing the Cougars just 26 plays in the entire second half. The Cougars had five yards passing, but minus --5 yards rushing in the entire third quarter.
"That really hurt us," Crowton said. "With them having so many plays on offense, and our offense not having a chance to get out on the field, that wore our defense down. We had very few offensive plays in the third quarter and that made a big difference."
"They have a great defense," BYU quarterback Matt Berry said. "They've got great, solid athletes at all positions, but we thought we could get around them early with the bootlegs and bang them first, but it didn't work out that way."
After Jones scored on a 23-yard run in the third quarter, and Fitzpatrick added another field goal early in the fourth quarter, BYU quarterback Matt Berry scored a touchdown on a one-yard run to cut the Notre Dame lead to 26-14.
The Irish added one more touchdown by Jones -- his third of the night -- with under a minute in the game, bringing the final score to 33-14.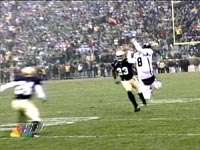 Berry finished the night 17-of-29 for 231 yards and one rushing touchdown. Brathwaite totaled 77 yards on 14 carries.
"I was pleased with Matt's ability to go out there after he had prepared all week," Crowton said. "He had a lot of fight in him, and as a coach, I like to see that."
Junior safety Aaron Francisco led the BYU defense with 13 total tackles, while James Allen had a team-leading six solo takedowns.
"We definitely needed the defense to step up as they did," Brathwaite said. "We just needed to put points up on the board."
With the loss, the Cougars fall to 4-7 on the season, and as a result, will face their second straight losing season, something that hasn't happened at BYU since the 1970 and 1971 seasons.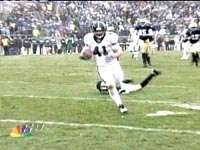 The Cougars will return to Provo tonight and begin preparing for the season finale against Utah. The Cougars and Utes will battle it out on Saturday, Nov. 22, beginning at 1 p.m. (MST) at Edwards Stadium in Provo. The game will be broadcast to a regional audience by ESPN-Regional on KJZZ, Ch. 14 in Salt Lake City.
"We're going to continue to evaluate where we are, try to get better, try to improve and try to come out and play hard next time," Crowton said.
×
Most recent BYU Cougars stories