Estimated read time: 3-4 minutes
This archived news story is available only for your personal, non-commercial use. Information in the story may be outdated or superseded by additional information. Reading or replaying the story in its archived form does not constitute a republication of the story.
Despite holding Air Force (5-0, 2-0) to 194 yards rushing, 144 below the Falcons' average of 338 yards which led the nation, BYU (2-3, 1-1) lost its second straight game 24-10 Saturday at LaVell Edwards Stadium.
![](http://byu.ksl.com/images/vid_button.gif)
*****Click on desired bandwidth to View Real Video of Game Highlights*
(High Bandwidth Video requires RealPlayer 8 or higher)
Head coach Gary Crowton said the loss was tough, but the team will try and learn from its mistakes and get better.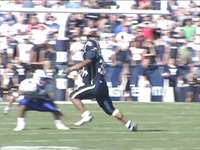 The Cougars were driving in the middle of the fourth quarter with an opportunity to tie the game at 17, but a fumble by Marcus Whalen at the Air Force 43-yard line ended BYU's scoring threat.
"I felt bad for Marcus," Crowton said. "He was just trying to get some yards, and he hadn't played a lot because of his injury. He was feeling bad. We're all feeling bad."
BYU got on the board first on a 35-yard field goal by Matt Payne in the first quarter. The Cougars drove the ball 45 yards on the drive, including 21-yards rushing by quarterback John Beck.
Air Force scored 10 straight points to take a 10-3 lead. The Falcons kicked a 30-yard field goal in the second quarter and Chance Harridge scored on an eight-yard run in the third quarter.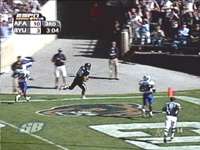 BYU answered on its very next possession, driving 80 yards and scoring on a 25-yard pass from John Beck to Philip Niu. Beck was 5-of-6 for 50 yards on the drive and finished the game 19-of-35 for 193 yards and one touchdown.
Air Force next scored on a 30-yard pass from Harridge to J.P. Waller, putting Air Force up 17-10.
After Whalen's fumble, BYU forced Air Force to punt the ball, getting the ball back with just over four minutes remaining in the game. On second-and-ten Beck completed a nine-yard pass to Daniel Coats, bringing up a third-and-one.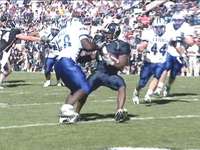 On the next play, BYU ran a sweep to Reynaldo Brathwaite, but lost 10 yards on the play. Beck threw an incompletion on fourth down, as BYU turned the ball over on downs with 2:27 to play.
Air Force would add a touchdown as time expired on a one-yard run by Harridge to bring the final score to 24-7.
Air Force coach Fisher DeBerry said he wasn't trying to run up the score on the last touchdown. He said he thought it would be the safer than taking a knee.
"I wasn't trying to run it up if that's what you're thinking," DeBerry said. "That in no way had anything to do with it. I felt the safest thing for us to do, by goodness, was to try and get it in there.
"I think my grandma, who's in a grave, could score from a half-yard line."
Written by BYU Athletics Media Relations
×
Most recent BYU Cougars stories