Estimated read time: 3-4 minutes
This archived news story is available only for your personal, non-commercial use. Information in the story may be outdated or superseded by additional information. Reading or replaying the story in its archived form does not constitute a republication of the story.
PROVO, Utah (Sept. 20, 2003) -- Despite leading for most of the game and holding Stanford to 200 total yards with only 56 passing yards, BYU fell 18-14 Saturday night at LaVell Edwards Stadium.
![](http://byu.ksl.com/images/vid_button.gif)
*****Click on desired bandwidth to View Real Video of Game Highlights*
(High Bandwidth Video requires RealPlayer 8 or higher)
The Cougars had an opportunity late in the game to take the lead, driving to the Stanford nine-yard line after a 29-yard pass from John Beck to Chris Hale. But the Cougars would get no closer as Beck was sacked two times in the Cougars' last four plays, forcing BYU to turn the ball over on downs with 23 seconds left in the game.
"I want to give Stanford a lot of credit," coach Gary Crowton said. "They came in here and played hard. They played within their bounds and did a good job."
Crowton said the Cardinal took care of the ball when they needed to and took advantages of the opportunities BYU gave them.
The defense played well, recording four sacks, including two by Levi Madarieta, and two interceptions. They held Stanford 257 yards below Stanford's output in its first game.
BYU got on the board first, scoring with 4:33 left in the first quarter, driving 78 yards in just under three minutes. On the drive, Beck was 6 for 8 and hit Toby Christensen for a 27-yard touchdown pass.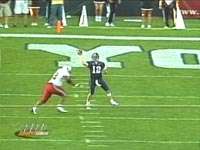 Beck finished the game 22 for 45 for 279 yards and that one touchdown. Christensen led BYU in receiving, hauling in seven passes for 86 yards.
Crowton said he thought Beck played well for his first game and he made some good decisions, but said he still has a lot to learn. Stanford got on the board just before the end of the first quarter on a four-yard run by Kenneth Tolon, but defensive tackle Manaia Brown blocked the Cardinal's extra point attempt. The Cardinal would add a 38-yard field goal in the third quarter to take a 9-7 lead.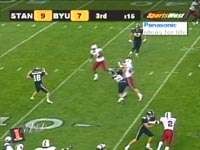 But BYU would answer, scoring on a 31-yard pass from Lance Pendleton to Daniel Coats. On the play, Todd Mortenson, who was subbing for Beck, threw a backward pass to Pendleton who hit Coats for the score.
On the drive Beck completed a pass to Rod Wilkerson for 56 yards -- the longest pass play for the Cougars' this season.
After the Cardinal forced BYU to punt midway through the fourth quarter, Stanford's Luke Powell returned the ball 68 yards to the Cougar twenty-five, but the Cougar defense would hold Stanford to a 38-yard field goal.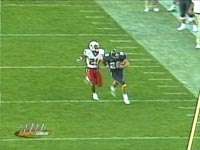 BYU's offense struggled for much of the fourth quarter. Stanford's defense forced Beck to throw two interceptions and held the Cougars without a first down until their final drive.
The last interception came deep in BYU territory with 4:10 left in the game, and Stanford scored the game-winning touchdown four plays later on a 14-yard run by quarterback Trent Edwards.
Crowton said the team isn't going to make any excuses for the loss despite starting a true freshman in Beck at quarterback.
"We are who we are. If we go out making excuses like we're young and this and that, we're not helping our team get any better," Crowton said.
×
Most recent BYU Cougars stories