Estimated read time: 5-6 minutes
This archived news story is available only for your personal, non-commercial use. Information in the story may be outdated or superseded by additional information. Reading or replaying the story in its archived form does not constitute a republication of the story.
ALBUQUERQUE, N.M. -- After jumping out to a 10-0 lead in the first half, the Cougars, fueled by a stellar defensive effort, held on for a 10-7 Mountain West victory over New Mexico on a windy night in Albuquerque.
![](http://byu.ksl.com/images/vid_button.gif)
*****Click on desired bandwidth to View Real Video of Game Highlights*
(High Bandwidth Video requires RealPlayer 8 or higher)
"This was a very interesting game, two very good defenses," BYU head coach Gary Crowton said. "It was a physical battle. It was a tough game, but it feels good to win."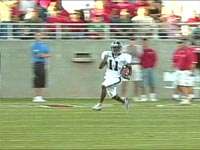 Junior running back Reynaldo Brathwaite led the Cougars, finishing the game with a career-high 169 yards rushing on 19 carries. Brathwaite had an 89-yard run in the first quarter that set up BYU's first score, a 20-yard field goal from Matt Payne.
"To open up our conference season on the road with a win is big," Brathwaite said. "We had a lot of things we wanted to win this game for. We wanted to win for Bronco, our first conference game, and definitely to get our momentum back after coming off that USC loss."
With the Cougars pinned deep in their own territory during the first quarter, Brathwaite took the ball and appeared to be stopped for a loss. He reversed his field, from left to right and raced down the sideline before finally being stopped at the two-yard line. The 89-yard run marked the longest run from scrimmage in BYU history in over 45 years.
Crowton said he has been impressed with how Brathwaite has played the last three games in the absence of Marcus Whalen.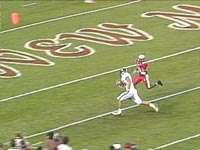 "Rey did an outstanding job tonight," Crowton said. "We knew he was talented and would make some plays, but he's really stepped it up since Marcus Whalen got hurt. He's making a big case for himself with 169 yards rushing this game, and that 89-yard run."
During the first half, BYU added another score on a 30-yard pass from Matt Berry to Philip Niu, his first career reception Berry was 6-7 for 64 yards on the only touchdown drive of the game for the Cougars.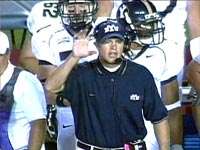 The game lived up to its billing as a showdown of two of the top defenses in the Mountain West Conference. The BYU defense allowed just 312 yards of total offense and held the Lobos scoreless for three of the four quarters, marking the fifth straight game the Cougars have held an opponent scoreless in at least one quarter. In each of the Cougars' three games this season, they have held their opponents scoreless in two or more quarters.
Coming into the game New Mexico was averaging 50 points and over 500 yards-a-game in total offense.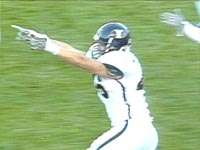 New Mexico finally got on the board late in the third quarter on a three-yard run by DonTrell Moore. The touchdown was set up by a 66-yard screen pass to Adrian Boyd -- the longest play allowed by the Cougars this season.
After UNM scored with 4:38 left in the third quarter, the two defenses dug in their heels. The two teams exchanged punts throughout the fourth quarter.
BYU got the ball back for the final time with 4:47 left in the fourth quarter. Brathwaite picked up a first down on a one-yard run before Todd Mortensen dumped off to fullback Kyle Wilson for a critical 16-yard gain. On first and 10 at the UNM 40 yard line, Fahu Tahi was stopped for a two-yard loss. On second and 12, Brathwaite picked up six yards, forcing a third and 6 from the 36 yard line. Needing a first-down to seal the victory, Crowton opened up his bag of tricks, calling for a halfback pass. Brathwaite looked off his primary target, Jason Kukahiko, and found Toby Christensen for a 26-yard gain and the game-clinching first down.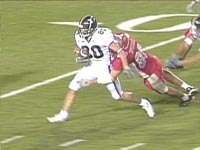 "Well, I tried to spiral it but it came out a little wrong," Brathwaite said. "We just drew that play up this week, thinking that they were going to over pursue, especially if we got the running game going, and it worked out."
"We thought about calling the halfback pass on the series before," Crowton said. "We thought we were going to get a touchdown off that play.Then, right at the end when they were just stacking everybody, it was a third down, we just needed one more first down. I thought that was the safer throw rather than having them all come and blitz the quarterback. They just flew up there and he just dumped it off.
"The guys played well, and even though there weren't a lot of points scored tonight, I think under the circumstances, I was very, very happy with how we played. I thought we played as a team."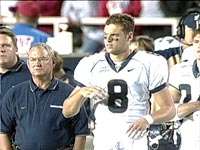 The game proved costly, however, as Berry will likely miss next week's game against Stanford. The sophomore quarterback suffered a broken bone in his hand during the first quarter and will have surgery on Sunday to repair the fracture. Offensive lineman Scott Jackson, linebacker Bryant Atkinson and fullback Fui Vakapuna all suffered sprained knees. Each will be evaluated again on Sunday to access any further damage.
Written by BYU Athletic Media Relations
×
Most recent BYU Cougars stories