Estimated read time: 11-12 minutes
This archived news story is available only for your personal, non-commercial use. Information in the story may be outdated or superseded by additional information. Reading or replaying the story in its archived form does not constitute a republication of the story.
PROVO, Utah -- In his first career 300-yard passing game, BYU quarterback Matt Berry led the Cougars to a 35-31 win over Wyoming on Saturday at Lavell Edwards Stadium, helping to keep the Cougars' post-season bowl hopes alive.
![](http://byu.ksl.com/images/vid_button.gif)
*****Click on desired bandwidth to View Real Video of Game Highlights*
(High Bandwidth Video requires RealPlayer 8 or higher)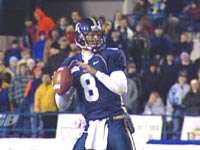 Berry finished with another strong performance, completing 31-of-45 passing for a career-high 360 yards, three touchdowns and two interceptions.
"Berry's learning, and he's getting better. He is going to be pretty good," said BYU head coach Gary Crowton. "I am excited. He scrambled a little better today, and had a little more pocket presence."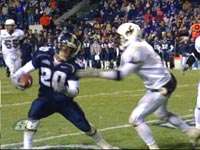 Saturday's game was also a night of milestones for wide receiver Reno Mahe, who finished the night with six receptions for 80 yards. Mahe passed Todd Christenson for sixth place on the Cougars all-time career receptions list with 157 receptions and also moved in to 10th place on the all-time career yardage list with 2,067 career catches. After the game, Mahe and his wife, Sunny, headed to the hospital for the birth of the couple's first child.
Crowton said, "We were able to use a lot of weapons. Reno had a good game and made a lot of big plays, and the tight ends played well. When the quarterback is getting everybody involved it really helps us."
Another one of those weapons was running back Marcus Whalen, who recorded his fifth 100-yard rushing game of the season. On Saturday night, Whalen racked up 124 yards on 26 carries and one touchdown, moving to within 149 yards of a 1,000-yard rushing season.
In the game, the Cowboys struck first, scoring on their first possession. Wyoming capitalized on a 66-yard pass by junior quarterback Casey Bramlet to senior wide receiver Brock Ralph. That play set up a three-yard touchdown run by Bramlet to put the Cowboys up 7-0.
The Cougar offense struggled in the first quarter with the team's first two possessions resulting in a 51-yard missed field goal by kick Matt Payne, and a Berry fumble on the Wyoming 15-yard line, respectively.
The BYU defense came up big in the second quarter as the Cougar offense also found its rhythm.
Linebackers Mike Tanner and Paul Walkenhorst teamed up to sack Bramlet on the third play of the second quarter for an eight-yard loss. The defense held Wyoming and the Cougars took the ball over on their own 38-yard line.
The offense wasted no time in evening the score at 7-7 as Berry and Whalen marched the Cougars 63 yards in 8 plays, and capped it off with a 6-yard touchdown run by Whalen.
Four plays later, Cougar safety Michael Madsen intercepted a Bramlet pass, giving the Cougars the ball on their own 45-yard line.
Berry picked up right where he left off and drove the Cougars to the Cowboy's two-yard line before being sacked for an 11-yard loss.
Berry answered back with a 15-yard touchdown strike to tight end Spencer Nead. The touchdown was Nead's first of the season and gave the Cougars a 14-7 lead.
Wyoming would score on their next possession to tie the game at 14-14 with 5:47 left in the half.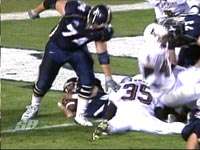 But before the end of the half, the BYU offense marched down the field to the Wyoming 6-yard line where quarterback Lance Pendleton scrambled in for his first touchdown since Sept. 22, against Georgia Tech. The score gave the Cougars the lead at 21-14 going into half time.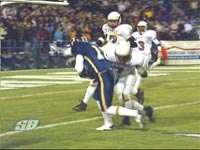 Wyoming started off the second half by intercepting a Berry pass, and then converted on a 21-yard field goal by Scott Parker.
The Cougars came right back with a 9 play, 68-yard drive that ended with Berry's second touchdown pass of the night, this time to wide receiver Andrew Ord.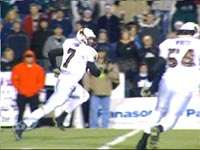 BYU held the Cowboys and got another chance to score before the end of the quarter, but Berry's pass was intercepted in the end zone by Wyoming rover Jacque Finn. Finn returned the interception the length of the field to bring the Cowboys within five at 28-33 as time expired in the third quarter.
Following a BYU punt, Wyoming drove 80 yards in 10 plays to take the lead on a Derek Armah 3-yard run.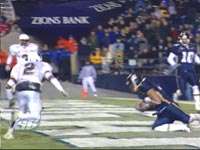 Needing to not only score, but control the clock, BYU methodically drove the field, ending up at the Wyoming 8-yard line. With 4:21 left in the fourth quarter, and facing a fourth-and-inches, Berry pushed through the line to come up with a critical fourth-down conversion, giving the Cougars another shot at the end zone for the win. Two plays later, Berry found tight end Gabe Reid in the endzone for the game-winning touchdown.
Crowton said, "It feels good to win, we made some mistakes and we played pretty good. We are getting better."
Wyoming took over on its own 14-yard line with 3:20 remaining in the game. The Cougar defense snuffed out any chance at a come-back, forcing back-to-back incomplete passes. BYU took over on downs, and ran out the clock to pick up its third straight win over the Cowboys.
The Cougars last home game of the season is next Saturday, Nov. 16, against New Mexico at 4 p.m. at LaVell Edwards Stadium. The Lobos defeated San Diego State on Saturday, and like BYU, need one win in their last two games to qualify for a post-season bowl invitation.
Game Re-cap
BYU posted its second straight win on Saturday, defeating Wyoming, 35-31, improving to an even 5-5 on the season, and 2-3 in MWC action. The Cougars overcame a 14-point run by the Cowboys in the second half, and added a late fourth-quarter touchdown to regain the lead. Quarterback Matt Berry found tight end Gabe Reid for a 4-yard touchdown strike with 3:28 remaining to give the Cougars the game-winning touchdown. The BYU defense then held Wyoming on four straight plays to take over on downs at the BYU 17-yard line with 1:45 remaining.
Attendance
Tonight's attendance of 61,689 marks the fourth largest home crowd of the season.
Wyoming Interception
Wyoming rover Jacque Finn picked off BYU quarterback Matt Berry at the goal line and returned it 100 yards for a touchdown, cutting the BYU lead to 28-23. Finn's interception marked the second pick a BYU opponent has returned for a touchdown this season, and ties the longest interception return record by an opponent in BYU football history. The most recent was by UTEP's Michael Hicks during the 1996 season.
Third-Down Conversions
The Cougars converted 11-of-16 third-down attempts, while the Cowboys converted just 4-of-11 attempts.
Matt Berry Notes
Redshirt freshman quarterback Matt Berry completed 31 attempts for 360 yards, marking his first career 300-yard passing performance. Berry also completed three touchdowns and had two interceptions. Trailing 31-28 with 8:59 remaining, Berry orchestrated a 10-play, 80-yard drive, capped by a 4-yard touchdown pass to tight end Gabe Reid for the game-winning touchdown.
Bowl Hoping
With today's 35-31 victory over Wyoming, the Cougars need to win just one of their final two games to qualify for a post-season bowl bid. The Mountain West Conference has four bowl tie-in's, including the Liberty Bowl (MWC Champion), Las Vegas Bowl (second selection), San Francisco Bowl (third selection) and the Seattle Bowl (fourth selection.) Presently, Colorado State and Air Force are the only to teams in the MWC which have qualified for a post-season bowl, while Utah and Wyoming are the only teams to have been eliminated from bowl contention.
Scoring Streak (NCAA Record)
With Marcus Whalen's 6-yard touchdown run in the second quarter, BYU extended its NCAA record streak to 348 games without being shutout. BYU was last shutout during the 1975 season (Sept. 27, 1975 vs. Arizona State.)
The Biggest Little Receiver
BYU senior receiver Reno Mahe finished the night with 80 yards receiving on 6 receptions. With his performance, Mahe moved in to 10th place on the all-time receiving list with 2,067 yards. Mahe needs just 139 yards to eclipse Mike Chirstopher's mark of 2,205 career yards for 9th place. Mahe also moved up the career receptions list, recording his 157th career receptions to move in to sixth place, passing Todd Christensen who had 152 receptions.
Not So Neady
BYU tight end Spencer Nead scored his first touchdown of the season on a 15-yard reception from quarterback Matt Berry. Nead finished the night with 6 receptions for 72 yards.
First-Quarter Scoring
For the seventh time this season, the Cougars failed to score in the first quarter of play.
Reid Leads BYU
Matt Berry's 4-yard touchdown completion to Gabe Reid with 3:28 remaining in the game marked Reid's team-leading fifth touchdown reception of the season.
Scoring Output
BYU scored 21 points in the second quarter, marking the most points scored in a single quarter this season. Its previous high was 14 points against Utah State on Oct. 4. The Cougars' 21 points also marked the most points scored in the first half since posting 21 against Syracuse in the season-opener.
Whale of a Tale
BYU sophomore running back Marcus Whalen carried the ball 26 times for 124 yards, marking his fifth 100-yard game of the season. Whalen needs just 149 yards to reach 1,000 yards on the season.
<font size="1">
Box Score (Final)
  Score by Quarters     1  2  3  4   Score
  -----------------    -- -- -- --   -----
  Wyoming.............  7  7  9  8  - 31       Record: (2-8,1-4)
  Brigham Young.......  0 21  7  7  - 35       Record: (5-5,2-3)
<p>
  Scoring Summary:
  1st 13:14 WY -  BRAMLET, Casey 3 yd run (PARKER, Scott kick), 
                  6-80 1:46, WY 7 - BYU 0
  2nd 10:57 BYU - WHALEN, Marcus 6 yd run (PAYNE, Matt kick), 
                  8-63 2:25, WY 7 - BYU 7
      07:25 BYU - NEAD, Spencer 15 yd pass from BERRY, Matt (PAYNE, Matt kick), 
                  6-55 2:36, WY 7 - BYU 14
      05:58 WY -  ARMAH, Derek 36 yd pass from BRAMLET, Casey (PARKER, Scott   
                  kick), 5-65 1:27, WY 14 - BYU 14
      03:27 BYU - PENDLETON, Lanc 6 yd run (PAYNE, Matt kick), 
                  6-63 2:31, WY 14 - BYU 21
  3rd 12:09 WY -  PARKER, Scott 21 yd field goal, 
                  6-16 2:41, WY 17 - BYU 21
      08:08 BYU - ORD, Andrew 21 yd pass from BERRY, Matt (PAYNE, Matt kick), 
                  9-68 4:01, WY 17 - BYU 28
      00:00 WY -  FINN, Jacque 100 yd interception return (BRAMLET, Casey rush 
                  failed), WY 23 - BYU 28
  4th 09:10 WY -  ARMAH, Derek 3 yd run (FLOYD, Malcom pass), 
                  10-80 4:54, WY 31 - BYU 28
      03:28 BYU - REID, Gabriel 4 yd pass from BERRY, Matt (PAYNE, Matt kick), 
                  12-64 5:42, WY 31 - BYU 35
</p><p>
                                       WY      BYU
  FIRST DOWNS...................       18       30
  RUSHES-YARDS (NET)............    30-76   46-172
  PASSING YDS (NET).............      283      360
  Passes Att-Comp-Int...........  36-21-1  45-31-2
  TOTAL OFFENSE PLAYS-YARDS.....   66-359   91-532
  Fumble Returns-Yards..........      0-0      0-0
  Punt Returns-Yards............      0-0      1-9
  Kickoff Returns-Yards.........     1-23     4-75
  Interception Returns-Yards....    2-116      1-0
  Punts (Number-Avg)............   3-42\.3   1-63\.0
  Fumbles-Lost..................      2-1      2-1
  Penalties-Yards...............     2-21     5-46
  Possession Time...............    24:18    35:27
  Sacks By: Number-Yards........     2-16     2-17
</p></font>
RUSHING: Wyoming-JONES, Leonard 5-41; BRADSHAW, Kit 8-25; ARMAH, Derek 7-10; DONOVAN, Luke 1-1; BRAMLET, Casey 9-minus 1. Brigham Young-WHALEN, Marcus 26-124; BERRY, Matt 8-26; PENDLETON, Lanc 3-15; MAHE, Reno 1-7; BROWN, Curtis 5-3; ORD, Andrew 1-0; TM 2-minus 3.
PASSING: Wyoming-BRAMLET, Casey 21-36-1-283. Brigham Young-BERRY, Matt 31-45-2-360.
RECEIVING: Wyoming-BOUKNIGHT, J. 9-96; VINES, Scottie 3-21; RALPH, Brock 2-76; ARMAH, Derek 2-45; BRADSHAW, Kit 2-8; MCGUFFEY, Ryan 1-24; FLOYD, Malcom 1-9; JONES, Leonard 1-4. Brigham Young-MAHE, Reno 6-80; NEAD, Spencer 6-72; WHALEN, Marcus 4-25; ORD, Andrew 3-68; BROWN, Curtis 3-45; KUKAHIKO, Jason 3-28; CHRISTENSEN, To 3-17; ANDERSON, Justi 1-17; REID, Gabriel 1-4; BEVERLEY, Kish 1-4.
INTERCEPTIONS: Wyoming-YOUNG, Nate 1-16; FINN, Jacque 1-100. Brigham Young-MADSEN, Michael 1-0.
FUMBLES: Wyoming-BRAMLET, Casey 1-0; BOUKNIGHT, J. 1-1. Brigham Young-CHRISTENSEN, To 1-0; BERRY, Matt 1-1.
SACKS (UA-A): Wyoming-MORRIS, Zach 1-0; BEUHLER, Chad 1-0. Brigham Young-BOCKWOLDT, Colb 1-0; WALKENHORST, Pa 0-1; TANNER, Mike 0-1.
TACKLES (UA-A): Wyoming-YOUNG, Nate 10-6; GOTTSCHALK, T. 5-5; TUELL, Guy 4-4; DIXON, Chris 5-2; CASAVAN, B. 4-3; WHITE, Herman 4-2; ROLLINS, Josh 1-5; MCNEAL, Jay 2-3; VINCENT, Tom 2-2; WILSON, John 1-3; JACKSON, R. 1-3; WOODSON, Armand 1-3; BEUHLER, Chad 3-0; BONDE, Jacob 2-0; FINN, Jacque 1-1; MORRIS, Zach 1-1; CALAHAN, Ryan 1-0; FULTON, Kevin 1-0; MONDRAGON, Matt 1-0; PRUITT, Tam 0-1. Brigham Young-TANNER, Mike 2-8; BOCKWOLDT, Colb 9-0; WALKENHORST, Pa 3-5; FRANCISCO, Aaro 2-2; DENNEY, John 2-2; GUNDERSON, Ryan 0-4; BARNEY, Chad 3-0; MEIBOS, Jared 2-1; BURBIDGE, Jon 2-1; NIELSEN, Kip 2-0; MARQUARDT, Dani 1-1; PILI, Ifo 0-2; PAYNE, Matt 1-0; ORD, Andrew 1-0; TM 1-0; MADSEN, Michael 1-0; BRANDON, Joshua 1-0; GILFORD, Jernar 1-0; MADARIETA, Levi 0-1; NUA, Shaun 0-1.
Stadium: Edwards Stadium Attendance: 61689 Kickoff time: 4:07 pm End of Game: 7:25 Total elapsed time: 3:18
Officials: Referee: Gerald Wright; Umpire: Robert Collins; Linesman: Tim Podraza; Line judge: Jack Lynch; Back judge: Terrance Miles; Field judge: Steve Lindsay; Side judge: Karl Richins; Scorer: Media Relationa;
Temperature: 46 Wind: 2-5 N Weather: cloudy
(Written by BYU Athletic Media Relations)
×
Most recent BYU Cougars stories