Estimated read time: 7-8 minutes
This archived news story is available only for your personal, non-commercial use. Information in the story may be outdated or superseded by additional information. Reading or replaying the story in its archived form does not constitute a republication of the story.
PROVO, UTAH -The BYU Cougar football team answered many questions regarding the ability of this year's team to match the success of the 2001 inaugural season for Gary Crowton, by defeating Syracuse 42-21.
![](http://byu.ksl.com/images/vid_button.gif)
*****Click on desired bandwidth to View Real Video of Game Highlights*
(High Bandwidth Video requires RealPlayer 8 or higher)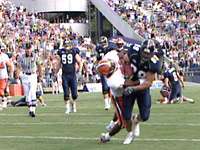 BYU head coach Gary Crowton was not with the Cougars when they last played the Orangemen, but he is familiar with Syracuse head coach Paul Pasqualoni. Crowton said, "I've been around Paul Pasqualoni, he's an outstanding coach, his teams are always good. They had good strength in their defense and their guys played hard. I'm just glad we won."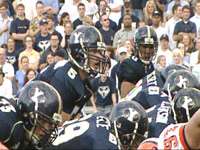 With tonight's win, junior quarterback Bret Engemann and the rest of the Cougars finally got their revenge for the painful 42-14 loss they suffered in 2000. (Engemann was forced to leave that game back in 2000 due to a season ending shoulder injury.) At the end of tonight's game, the BYU offense managed to rack up 615 yards of total offense. Engemann threw for a total of 386 yards on 35-54 passing, with three touchdowns and one interception. He even proved he could run the ball by posting 50 yards on the ground on 8 carries, and scoring a 3-yard rushing touchdown to put the Cougars up 27-21.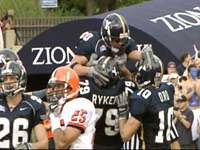 Speaking on Engemann's performance Crowton said, "I've been telling everybody that he's good. He won the job in the spring and he's just been getting better and better." Crowton reminded reporters that "(Engemann) actually beat out Doman and Peterson two years ago." Another big question for the Cougars was how they were going to make up for the loss of their all-time single season rushing leader Luke Staley, the 2001 Doak Walker Award winner.
Sophomore running back Marcus Whalen answered the call to fill the hole left by Staley, by carrying the ball 19 times for a total of 152 yards rushing and one touchdown. Crowton said, "Marcus is going to get better. Once he calmed down he started hitting the hole and had some good runs and he's going to keep getting better and better." BYU receivers recorded 397 total yards for the night by spreading the wealth between 10 different receivers, including 6 passes to Toby Christensen for 98 yards and 1 touchdown. Sophomore David Christensen pulled in 5 passes for 74 yards and one touchdown, and senior Reno Mahe was unusually quiet and pulled in 4 receptions for 35 yards.
The Cougars also used three different tight ends throughout the game. They combined for 11 receptions and 131 yards. Starting senior Spencer "The Teton Terror" Nead caught 5 passes for 80 yards, senior Gabe Reid caught 4 for 29 yards, and Aissac Aiono caught 2 for 24 yards. Pasqualoni said, "To BYU's credit, they played a great game. Their skill guys played very well, their tight ends are really, really good." Not to be out done, the BYU defense held the Orangemen to 326 yards on 8-24 passing, with two interceptions, Syracuse quarterback R.J. Anderson threw only three touchdowns in 13 games last season, and had only thrown 8 in his three year career until tonight. Anderson was also sacked 3 times, for a loss of 13 yards. Senior Jeff Cowart, a converted tight end playing defensive end, recorded one sack and his first career interception, and sophomore Brady Poppinga had a sack of his own and three tackles for a total loss of 12 yards. Tonight's win snapped a two-game-losing streak for the Cougars, going back to last season when the team lost consecutive games to Hawaii and Louisville to end the 2001 season. The last time the Cougars lost three or more games in a row was the end of the 1999 season and extended through beginning of the 2000 season. The Cougars lost to Wyoming, Utah, Marshall, and then Florida State in the season opener of 2000, LaVell Edward's final season as head coach. On their first possession of the game, Engemann drove the Cougar offense 69 yards in 10 plays to score the first touchdown of the game, a six-yard pass to senior wide receiver Andrew Ord. The touchdown extended the team's NCAA consecutive game scoring streak to 339. BYU held Syracuse on their next possession, but Mahe fumbled the punt on the Cougar's own 22-yard line, Syracuse then recovered the ball on the Cougar 17-yard line. It took the Orangemen only seven seconds to put the ball in the end zone on a 17-yard run by junior wide receiver Jamel Riddle to even the game at 7-7. The Cougar's scored two more touchdowns to go up 21-14 at half time, including the longest touchdown scoring drive in school history. The drive began on the BYU one-yard line after the Cougar defense held the Orangemen as they went for it on fourth and goal. Engemann marched the Cougars down the field 99 yards in 9 plays for a touchdown off of a one-yard run by Whalen. Pasqualoni said, "There was an opportunity there right before the half when we were inside the one-yard line, and we missed that opportunity. That really hurt us." A scary moment for the Cougars came near the end of the third quarter as Engemann came up with a sore hand and left the game for two plays and reserve quarterback Lance Pendelton came in to play. Engemann was out only two plays and returned to finish the drive himself by scoring on a three-yard touchdown run of his own. BYU went on to win the game 42-21, refusing to allow Syracuse another touchdown or field goal. The Cougars hope to avenge their only regular-season loss that snapped their 12-0 run and hopes of crashing the BCS, as they play the University of Hawaii on Friday, Sept. 6 at 5:00 PM (MDT) in Provo.
<font size="1">
Box Score (FINAL)
  Score by Quarters     1  2  3  4   Score
  -----------------    -- -- -- --   -----
  Syracuse............  7  7  7  0  - 21       Record: (0-1)
  Brigham Young.......  7 14  6 15  - 42       Record: (1-0)
<p>
  Scoring Summary:
  1st 08:14 BYU - ORD, Andrew 6 yd pass from ENGEMANN, Bret
            (PAYNE, Matt kick),SU 0 - BYU 7
      03:43 SU - RIDDLE, Jamel 17 yd run
            (BARBER, Colin kick), , SU 7 - BYU 7
  2nd 14:46 BYU - CHRISTENSEN, To 2 yd pass from ENGEMANN, Bret
            (PAYNE, Matt kick), , SU 7 - BYU 14
      04:53 BYU - WHALEN, Marcus 1 yd run
            (PAYNE, Matt kick), , SU 7 - BYU 21
      01:13 SU - RHODES, Damien 5 yd run
            (BARBER, Colin kick), , SU 14 - BYU 21
  3rd 06:08 SU - RHODES, Damien 4 yd run
            (SHAFER, Mike kick), , SU 21 - BYU 21
      02:43 BYU - ENGEMANN, Bret 3 yd run
            (PAYNE, Matt kick failed), , SU 21 - BYU 27
  4th 08:23 BYU - CHRISTENSEN, Da 50 yd pass from ENGEMANN, Bret
            (PAYNE, Matt kick failed), , SU 21 - BYU 33
      06:33 BYU - PAYNE, Matt 31 yd field goal, , SU 21 - BYU 36
      01:47 BYU - BROWN, Curtis 1 yd run
            (PAYNE, Matt kick failed), , SU 21 - BYU 42
</p><p>
                                       SU      BYU
  FIRST DOWNS...................       18       31
  RUSHES-YARDS (NET)............   42-198   39-218
  PASSING YDS (NET).............      128      397
  Passes Att-Comp-Int...........   24-8-2  55-36-1
  TOTAL OFFENSE PLAYS-YARDS.....   66-326   94-615
  Fumble Returns-Yards..........    1--10      0-0
  Punt Returns-Yards............      0-0      2-0
  Kickoff Returns-Yards.........    5-122     2-28
  Interception Returns-Yards....      1-0     2-24
  Punts (Number-Avg)............   7-37\.9   3-52\.0
  Fumbles-Lost..................      2-1      5-2
  Penalties-Yards...............     7-65   13-116
  Possession Time...............    24:58    35:02
  Sacks By: Number-Yards........     1-12     3-13
</p></font>
RUSHING: Syracuse-RHODES, Damien 14-82; REYES, Walter 10-58; BELTON, Thump 3-20; RIDDLE, Jamel 1-17; DAVIS, Chris 2-13; ANDERSON, R.J. 11-9; TEAM 1-minus 1. Brigham Young-WHALEN, Marcus 19-140; ENGEMANN, Bret 8-38; ANDERSON, Justi 1-18; PENDLETON, Lanc 2-15; WILKERSON, Rod 1-6; MAHE, Reno 2-5; DEANS, Logan 1-4; BROWN, Curtis 2-2; TM 2-minus 4; CHRISTENSEN, To 1-minus 6.
PASSING: Syracuse-ANDERSON, R.J. 8-24-2-128. Brigham Young-ENGEMANN, Bret 35-54-1-386; PENDLETON, Lanc 1-1-0-11.
RECEIVING: Syracuse-MORANT, Johnnie 3-35; TYREE, David 2-33; RIDDLE, Jamel 1-40; CUSUMANO, Lenny 1-14; REYES, Walter 1-6. Brigham Young-CHRISTENSEN, To 6-98; NEAD, Spencer 5-80; CHRISTENSEN, Da 5-74; WILKERSON, Rod 5-20; MAHE, Reno 4-35; REID, Gabriel 4-29; AIONO, Aisaac 2-24; WHALEN, Marcus 2-15; ORD, Andrew 2-11; ANDERSON, Justi 1-11.
INTERCEPTIONS: Syracuse-DUMAS, Jameel 1-0. Brigham Young-COWART, Jeff 1-11; BURBIDGE, Jon 1-13.
FUMBLES: Syracuse-RHODES, Damien 1-0; ANDERSON, R.J. 1-1. Brigham Young-MAHE, Reno 2-1; WILKERSON, Rod 2-1; ENGEMANN, Bret 1-0.
Stadium: Edwards Stadium Attendance: 65612 Kickoff time: 5:45 pm End of Game: 9:25 Total elapsed time: 3:40 Officials: Referee: Gene Steratore; Umpire: Mike Semcheski; Linesman: Matt Gitzgerald; Line judge: Todd Reese; Back judge: John McDaid; Field judge: Ben Vasconcells; Side judge: Milt Hagans; Scorer: Media Relations; Temperature: 88 Wind: SW 5 Weather: Partly cloudy
written by BYU Athletic Media Relations
×
Most recent BYU Cougars stories