Estimated read time: 4-5 minutes
This archived news story is available only for your personal, non-commercial use. Information in the story may be outdated or superseded by additional information. Reading or replaying the story in its archived form does not constitute a republication of the story.
LAS VEGAS (AP) -- It's hard to tell who counts himself luckier, Lon Kruger or his son.
Kevin Kruger, a fifth-year senior who transferred from Arizona State to play for his father this season, scored 21 points and led the 25th-ranked Runnin' Rebels to an 80-54 quarterfinal win over Utah in the Mountain West tournament Thursday night.
The Rebels (26-6), ranked this week for the first time since the final week of the 1992-93 season, are seeded second behind regular-season champion BYU and are hoping the tournament's return to the Thomas & Mack Center after three years in Denver will help them hoist the trophy this weekend.
That's even better than Kevin Kruger imagined when he took advantage of a new NCAA rule that allows players to transfer from one Division I program to another and play immediately if he has earned an undergraduate degree in four years and still has a year of eligibility left. Normally, players have to sit out a year when they change schools.
Kevin Kruger left Arizona State for UNLV, where he's averaging 13.2 points. He graduated last year from ASU with a major in justice studies and is working on his master's degree in Las Vegas.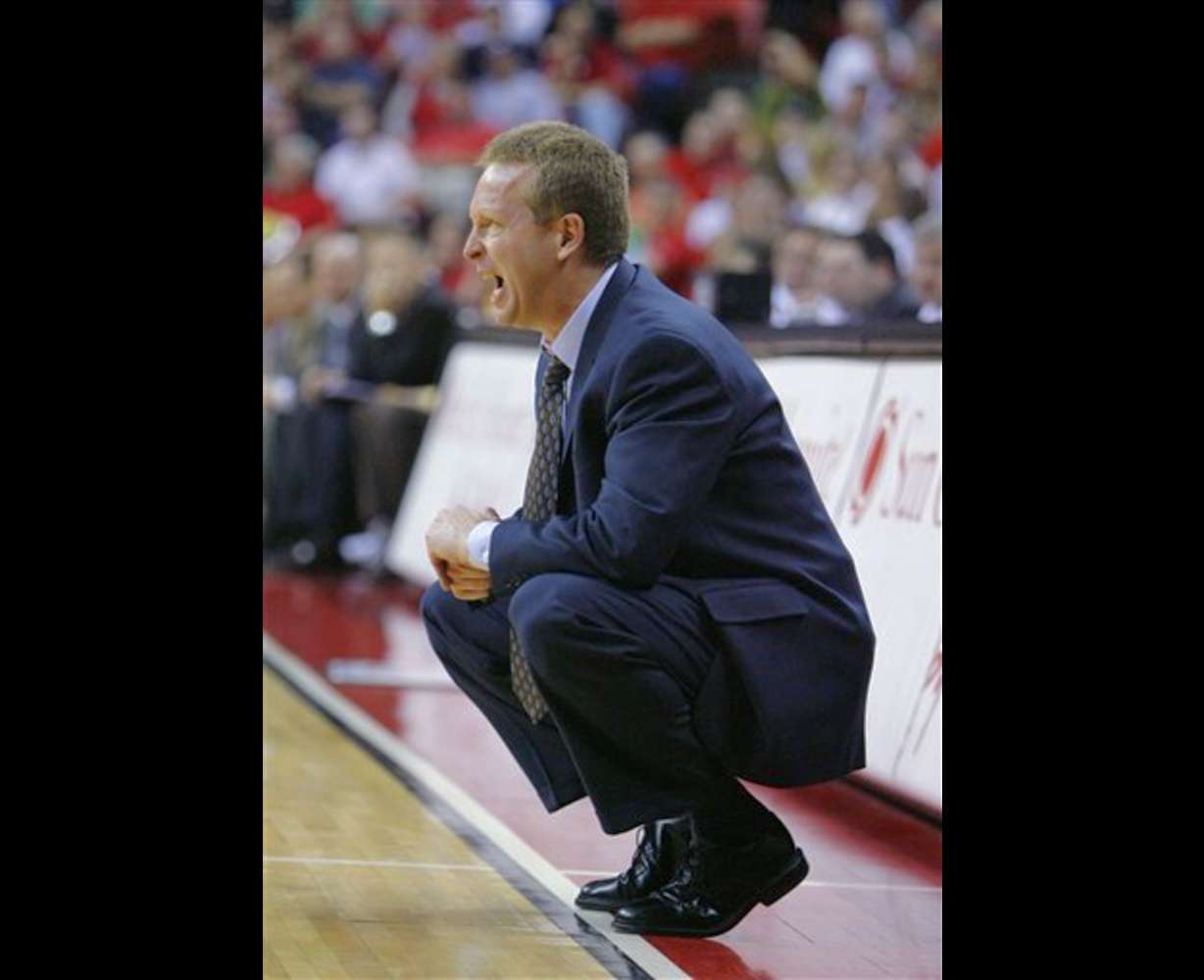 "It's been great to be around my family all year," Kevin Kruger said. "Being able to see him pretty much whenever I want has been something most college kids don't get to do."
Lon Kruger, who is about to become just the fifth college coach to take four programs to the NCAA tournament, couldn't be happier how things have turned out.
"We recognize it is a blessing that we don't take for granted," he said. "Barbara, my wife, would have seen him a lot more because she would have gone to all his games. I would have seen him play three or four times, maybe been around him five or six days total during his final year of his college experience.
"To have him here every day, it's been frustrating a little bit for him because of the injuries that he's had throughout, but it's good to have him healthy now. It's great to have him around."
Finally recovered from a leg injury that sidelined him earlier this year, Kevin Kruger scored 16 first-half points and spearheaded the Rebels' relentless pressure that limited the Utes (11-19) to one field goal over the final nine minutes of the first half.
The Rebels used a 19-5 run during that span to take a 35-25 halftime lead. Wendell White and Wink Adams each added 15 points for UNLV, which easily withstood 26 points and 10 rebounds from Luke Nevill.
"I don't think we've played a team this year that pressures you for 40 minutes as well as they do. I can't even think of somebody else that even compares," Utes coach Ray Giacoletti said following his farewell game.
While the Rebels are enjoying a rebirth under the father-and-son partnership, the Utes just completed their worst season since 1983-84, when they also went 11-19.
Giacoletti resigned last week, less than two years removed from a 29-6 first season in which Utah reached the round of 16 behind national player of the year Andrew Bogut.
"It's not about me," said Giacoletti, who got a $700,000 buyout spread over four years. "The team's the most important thing."
Giacoletti is the second Mountain West coach to lose his job. New Mexico's Ritchie McKay was fired and Colorado State's Dale Layer, Wyoming's Steve McClain and TCU's Neil Dougherty all are believed to be in danger of being fired.
No. 25 UNLV 80, UTAH 54
UTAH (11-19)
Green 1-4 0-0 3, Nevill 9-12 8-12 26, Bryant 2-14 1-2 7, Borha 0-1 0-0 0, Johns 1-5 0-0 2, Eatmon 1-3 0-0 2, Grant 1-2 0-0 3, Drca 0-1 0-0 0, Weigh 0-0 0-0 0, Deane 3-10 5-7 11, Foster 0-0 0-0 0.
Totals 18-52 14-21 54.
UNLV (26-6)
Essengue 3-3 4-4 10, Adams 7-12 0-0 15, Kruger 6-10 5-5 21, Umeh 1-3 0-0 2, White 7-15 1-1 15, Bailey 3-3 0-0 7, M.Lawrence 0-0 0-0 0, Rougeau 1-1 0-0 2, Anthony 0-1 0-0 0, Terry 3-7 2-2 8, Shaw 0-2 0-0 0, Darger 0-1 0-0 0.
Totals 31-58 12-12 80.
Halftime--UNLV 35-25.
3-Point Goals--Utah 4-18 (Bryant 2-8, Grant 1-2, Green 1-4, Borha 0-1, Deane 0-1, Johns 0-2), UNLV 6-16 (Kruger 4-8, Bailey 1-1, Adams 1-3, Umeh 0-1, Terry 0-3).
Fouled Out--None.
Rebounds--Utah 31 (Nevill 10), UNLV 30 (White 8).
Assists--Utah 6 (Green 2), UNLV 12 (Kruger 4).
Total Fouls--Utah 13, UNLV 18.
A--NA
(Copyright 2007 by The Associated Press. All Rights Reserved.)
×
Most recent Sports stories