Estimated read time: 2-3 minutes
This archived news story is available only for your personal, non-commercial use. Information in the story may be outdated or superseded by additional information. Reading or replaying the story in its archived form does not constitute a republication of the story.
John Daley reportingThousands of people streamed into Pioneer Park Monday in perhaps Utah's largest protest since the '70s. It's not just the regular crowd of activists that are starting to speak out.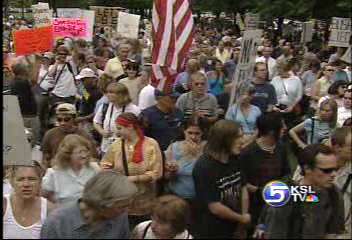 A huge crowd estimated at two-thousand plus strong is hoping to push America to a tipping point for peace.
A broad spectrum is represented here, like Marion Millerberg and her husband Arthur, who is a World War II Army veteran. Until Monday, they had never attended a protest.
Marion Millerberg/ West Jordan Resident: "I think there's been a lot of arrogance in the upper levels. I think they think they can convince us of anything. I think people are starting to let them know we aren't convinced anymore."
Margaret Smith came with much of her family.
Margaret Smith/ Salt Lake City Resident: "We've got to speak our piece and do it in a peaceful way."
Celeste Zappalla's son died in Iraq and she vowed to work to end the war.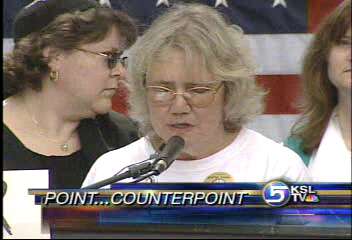 Celeste Zapppala/ Gold Star Families for Peace: "This policy is a disaster. We can no longer pretend it is working. Three more soldiers died overnight. It has to stop."
George Huntzinger, a Vietnam vet from Holladay, has a son who served in Iraq for a year.
George Huntzinger/ Father of Iraq Veteran: "I think people are starting to wake up and I'm so glad."
"What are we fighting for? There's oil in that sand. Bush is an oil man."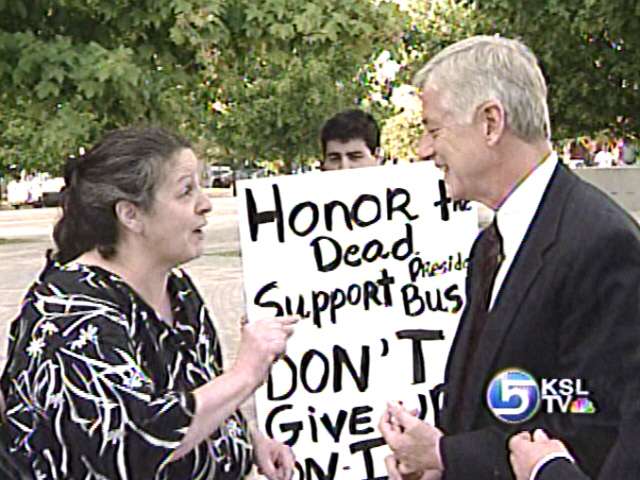 Salt Lake City Mayor Rocky Anderson was cheered loudly by the crowd, though earlier pro-Bush protesters at the Salt Palace yelled "shame on you."
Senator Orrin Hatch says Anderson was wrong to call for the protest, which Hatch called "small and sporadic."
Sen. Orrin Hatch/ (R) Utah: "You're always going to have nutcakes out there, no matter what you do."
But those here say public action is the best reaction to a bad war.
Arthur Millerberg/ West Jordan Resident: "I don't know what to say. I just wish it would end."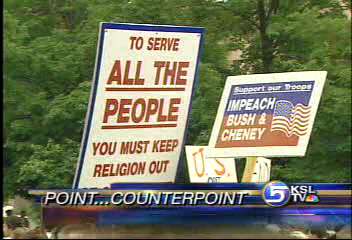 Organizers and ordinary people who turned out Monday say they think momentum is turning their way and against the President on this issue.
More protests here and nationwide are planned for next month.
×
Most recent Utah stories