Estimated read time: 2-3 minutes
This archived news story is available only for your personal, non-commercial use. Information in the story may be outdated or superseded by additional information. Reading or replaying the story in its archived form does not constitute a republication of the story.
Sandra Yi ReportingAaron Davis: "We support the troops, but not in this Iraq war."
The President arrives in Utah tomorrow, but not everyone is happy about his visit. He'll be met with protesters.
President Bush will attend the annual Veterans of Foreign Wars convention at the Salt Palace. His trip is also part of his push to garner support for the war in Iraq. But not everyone is behind him. This will be the President's second visit to Utah, but the most controversial of the two, in fact a protest is planned at Pioneer park tomorrow.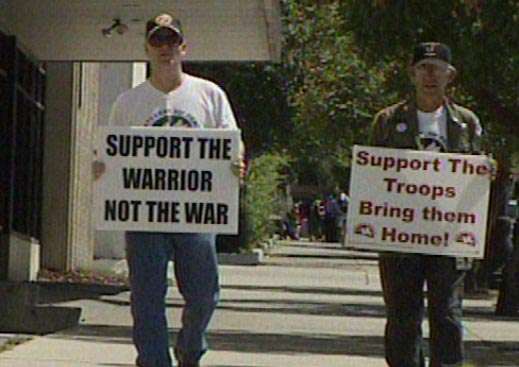 Outside the Salt Lake Palace this morning veterans attending the national convention, which began today, held up signs urging President Bush to bring the troops home. They say they opposed the war even before it began.
They also support Cindy Sheehan, the Texas woman whose son died last year in Iraq. Sheehan started an anti-war demonstration along a road in Crawford, Texas, vowing to stay there until Bush agreed to meet with her.
Aaron Davis, Veterans for Peace: "Cindy Sheehan has galvanized the anti-war movement, put a face on it, a mother who's mad, a mother who's lost a son, and that has galvanized us."
Protester: "My main message, bring the troops home before they have to suffer anymore."
The war isn't the only issue people are protesting. In fact, Salt Lake City Mayor Rocky Anderson is urging people to protest the President's budget cuts that affect people in every city in the nation.
But not everyone agrees with the anti-Bush agenda. Michael Cawley, the brother of the first Utah soldier to die in the war, says he felt compelled to speak out because he believes the protesters don't represent the majority of soldier's families.
Staff Sergeant James Cawley died in a Humvee accident in 2003. Michael Cawley also believes Cindy Sheehan is dishonoring her son.
Michael Cawley: "She has a right to protect, she has a right to grieve, but I think she goes way over the line."
At least one group gathered at Pionner Park is urging Utahns to honor the President.
×
Most recent Utah stories