Estimated read time: 2-3 minutes
This archived news story is available only for your personal, non-commercial use. Information in the story may be outdated or superseded by additional information. Reading or replaying the story in its archived form does not constitute a republication of the story.
Tonya Papanikolas ReportingSpeeds usually aren't that fast on Salt Lake's 700 East, but two nights ago, we showed you two crashes that happened on the same day, in the same area -- 2900 South and 700 East.
Neighbors tell us that a portion of 700 East is dangerous, and after hearing the story, some of our viewers posted comments on our Web site, wondering just how many crashes happen there and how fast people are really going.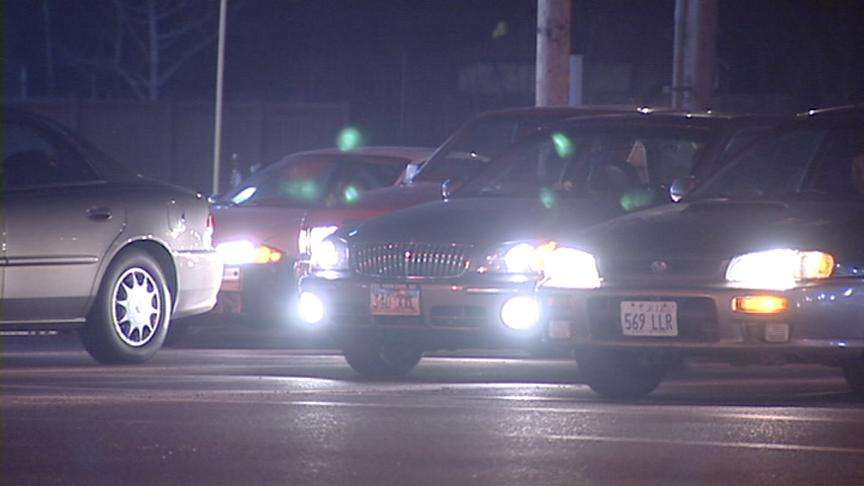 We asked UDOT how dangerous this road really is in terms of speed and crashes. They said 2900 South and 700 East, where these two crashes happened, wasn't extremely high on their crash lists. But just a few blocks down the street, at 3300 South, that's a different story. Neighbors say it's all part of the same picture.
Two days ago Virginia Beane watched a truck crash across the street from her house on 700 East. The same day, a van ran over her fence and crashed into the side of her house.
Virginia Beane, resident: "It's scary. It really has me concerned."
Beane says she's witnessed more than eight crashes here over the years.
Virginia Beane, resident: "Probably the most dramatic is watching somebody taking out the telephone pole just two houses down, and the phone pole almost hit the house."
Neighbors say cars go too fast down 700 East because drivers don't think of it as a residential street.
Mark Bouldin, neighbor: "You hear at night time, especially with motorcycles, just zooming by here really fast."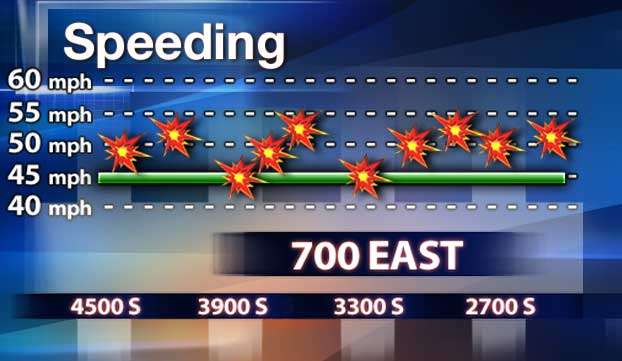 The speed limit along the road is 45 mph; neighbors told us drivers tend to go 50. So we dug deeper and discovered UDOT conducted a speed study in the area last fall. It shows along 700 East, from 4500 South to 2700 South, the average driver often goes up to 53 miles per hour, slowing down for stoplights and then speeding up again.
Robert Hull, UDOT traffic & safety director: "Those speeds are significant. People are driving a lot faster than you'd see on a normal residential street."
While UDOT says it's unusual, officials say they've analyzed the street and don't feel it would be appropriate to change the speed limit.
Robert Hull, UDOT traffic & safety director: "It doesn't matter if you lower that speed limit. People are still gonna be driving that faster speed."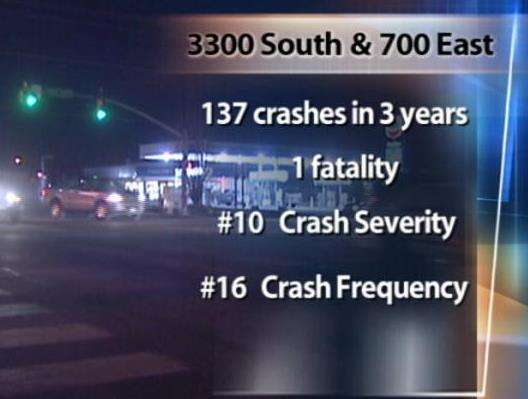 When it comes to crashes, UDOT says at 3300 South and 700 East they recorded 137 crashes in a three-year period. One of those was fatal. That ranks the intersection number 10 in crash severity statewide and number 16 in crash frequency.
×
Most recent Utah stories