Estimated read time: 2-3 minutes
This archived news story is available only for your personal, non-commercial use. Information in the story may be outdated or superseded by additional information. Reading or replaying the story in its archived form does not constitute a republication of the story.
SALT LAKE CITY -- A new study finds that two dozen schools in the Salt Lake Valley are located in places with potentially dangerous amounts of air pollution. It also reveals that poor families bear a greater degree of exposure.
The problem is car and truck exhaust from heavily-traveled roadways. A group of scientists investigated how many kids are at risk. They will present their findings Tuesday at the University of Utah S.J. Quinney College of Law.
Did you know...
Of Utah's 349 public and charter schools:
- 41 are within 500 feet of roads with moderate speed limits (31-50 mph)
- 24 are within 500 feet of highways with speed limits above 50 mph.
It's well-known that exhaust from heavy traffic can lead to or aggravate such conditions as asthma and cardio-pulmonary disease.
Dr. William McDonnell of the University of Utah Department of Pediatrics S.J. Quinney College of Law says, "There are a lot of studies out there that have shown that children who are close for substantial periods of time to roadway pollution are at risk of health problems."
Kids spend about a third of their time in and around schools, so researchers decided to map elementary and secondary schools in Salt Lake County to figure out how many are close to heavy traffic.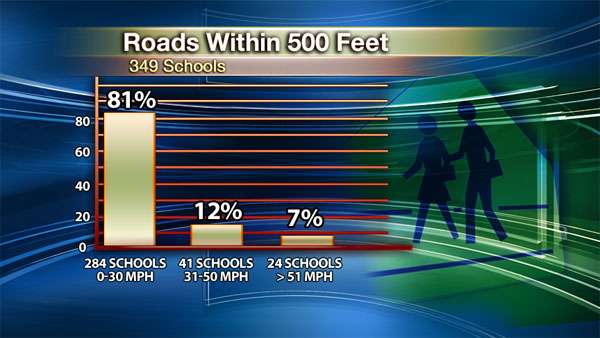 Of 349 public and charter schools, they found 41 are within 500 feet of roads with moderate speed limits. In addition, 24 schools, or 7 percent, are close to highways where the speed limit is above 50 and kids' exposure to pollution is presumably the highest.
"So when you take into account their time in the classroom, on the school grounds, doing extra-curricular activities, that probably is a substantial exposure," Dr. McDonnell says.
Researchers also found the burden falls disproportionately on the poor: Schools with the greatest presumed risk were nearly three times as likely to have children whose families live below the poverty line.
Sean Firth, an epidemiologist at the University of Utah Department of Pediatrics, said, "I certainly think it should have the attention of urban planners everywhere."
The researchers say more study is needed to quantify the risk, but they hope policymakers will think about health effects when they choose locations for schools.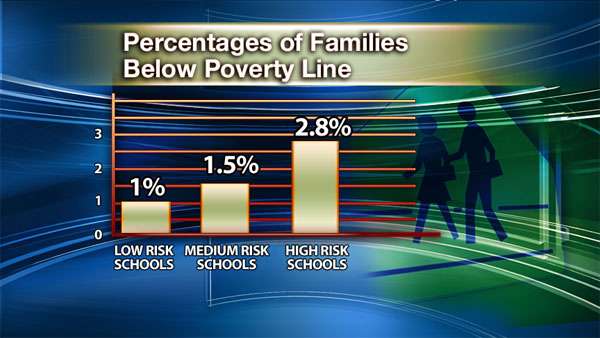 Firth suggesting placing them "in perhaps more residential areas as opposed to near the bigger highways."
The Utah Department of Transportation recognized this problem in connection with the new Mountain View Corridor project. They agreed to set aside $4 million for air monitoring at schools and possible air filtration.
California has already taken a much bigger step: It passed a law banning new schools within 500 feet of busy roads.
Firth, Dr. McDonnell and colleagues will present the study, "Proximal Exposure of Utah Schoolchildren to Airborne Pollutants from Major Roadways," on Tuesday, Feb. 9, at a "green bag" luncheon at the University of Utah.
E-mail: hollenhorst@ksl.com
×
Related Links
Related Stories