Estimated read time: Less than a minute
This archived news story is available only for your personal, non-commercial use. Information in the story may be outdated or superseded by additional information. Reading or replaying the story in its archived form does not constitute a republication of the story.
(KSL News) -- When police aren't busy responding to crimes, they're patrolling the streets. Officials say those patrols keep neighborhoods safer. They say a perfect example happened early this morning.
Sgt. Craig Cleason, Salt Lake City Police Dept.: "Many times, as in this case, what seems like an incidental stop turns into a crime in progress. This was just a citizen contact that turned into someone with a concealed weapon that fled from police."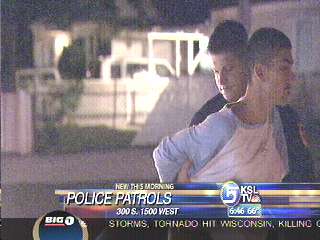 Police were on patrol around 15th west and 3rd south, when they saw a suspicious looking 18-year old. They stopped him and told him to hand over his backpack.
The suspect did, and then sprinted away. The backpack was full of ammunition, and when the police caught up to the suspect moments later, they also discovered a gun.
The suspect had tried to get rid of it along the street.
×
Most recent Utah stories