Estimated read time: 2-3 minutes
This archived news story is available only for your personal, non-commercial use. Information in the story may be outdated or superseded by additional information. Reading or replaying the story in its archived form does not constitute a republication of the story.
NEVE DEKALIM, Gaza Strip (AP) -- Israeli forces stormed the main synagogue of this Jewish settlement Thursday, one of the last bastions of resistance to the Gaza pullout, to remove about 1,500 protesters inside.
In nearby Kfar Darom, police broke open door of the synagogue where protesters had barricaded themselves, fired water cannons on the crowd and began removing the protesters.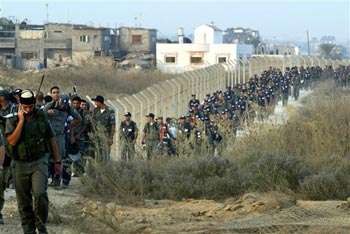 "Don't expel Jews," the crowd chanted as police charged into the prayer hall in Neve Dakalim. Protesters booed, whistled and threw water on troops.
In the front rows, young men lay on the ground, linking arms, while those behind them tried to push away soldiers trying to get hold of arms and legs. Some of the protesters had their arms wrapped in leather tefilin prayer boxes and rocked fervently as they recited prayers. Rabbis in the crowd wore orange vests identifying them as clergy.
Soldiers dragged some of the young men away by their feet, then carried them feet first down a ramp onto a bus. One man was taken away on a stretcher, with an intravenous drip.
Unarmed police entered the synagogue compound after hours of unsuccessful negotiations with settler leaders. They poured sand on the ramp after protesters soaked it in cooking oil to make it slippery.
In Kfar Darom, hundreds of pullout opponents barricaded themselves behind rolls of barbed wire in the synagogue, and security forces dragged screaming residents out of homes. Settlers elsewhere burned houses, fields and tires in protest.
Before the police charged into the synagogue, protesters threw eggs, bags of milk and lightbulbs with paint at troops. The army raised two cranes over the synagogue, preparing to hoist metal cages to carry protesters away. A soldier stood atop one of the cages with plastic riot shields.
Many of the settlers and their supporters are devout Jews who believe the West Bank and Gaza were promised to the Jews by God. They say their eviction is sacrilege.
Capturing the two synagogues -- and removing the young extremists inside -- would be an important victory for the forces.
(Copyright 2005 by The Associated Press. All Rights Reserved.)
×
Most recent News stories