Estimated read time: 2-3 minutes
This archived news story is available only for your personal, non-commercial use. Information in the story may be outdated or superseded by additional information. Reading or replaying the story in its archived form does not constitute a republication of the story.
Samantha Hayes ReportingAll over the country tonight, and here in Utah, people are gathering to support a woman who is demanding answers from President George Bush. That woman lost her son last year to the war in Iraq. She is protesting the war from just outside the President's ranch in Texas, and now vigils are talking place all over the country to support her.
There are many sons and daughters of Utah families fighting in Afghanistan and Iraq right now. One woman I talked to tonight said she supported her son during his service, but she says that year was the worst in her life.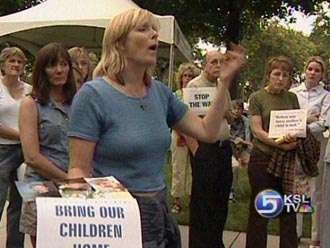 Take a step back and the protest may look like something that would happen in a blue state..
Rhea Gavry, Organizer: "This is not a blue state thing. This is not a red state thing. This is a family thing. This is American. I'm patriotic. I am doing my duty as an American to say, 'look, I keep waiting for people to do something. No one is doing anything except comedians.'"
And Cindy Sheehan. That's what this vigil and hundreds of others across the country are about. Sheehan's son died in Iraq and she is protesting the war outside President Bush's Texas ranch.
Barb Cantonwine's son came home. That may be the only difference between her and Sheehan.
Barb Cantonwine, Mother of Soldier: "My son was there for a year and it was the worst year of my life, really, I think."
And her feelings about the war intensified.
Barb Cantowine: "I've always opposed it. I've always thought it was the wrong thing to do. But as the war goes on, I oppose it more and feel more strong about my opposition."
In a Survey USA poll 57 percent of Utahns approve of the job President Bush is doing; 38 percent disapprove. Nationwide, 41percent approve and 55 percent disapprove.
Barb Cantowine: "The news reports become a daily hell. Listening to them and listening to how many soldiers were killed or injured."
That's her feeling as a parent, not a politician. Barb Cantowine: "Even though they are adults they are still our babies. We are still their mommies."
President Bush will visit Utah Saturday.
×
Most recent Utah stories