Estimated read time: 2-3 minutes
This archived news story is available only for your personal, non-commercial use. Information in the story may be outdated or superseded by additional information. Reading or replaying the story in its archived form does not constitute a republication of the story.
Gene Kennedy Reporting Get ready to spring forward sooner. Daylight saving time comes three weeks earlier this year.
And even though you may enjoy a little more sunlight, the change will be a time-consuming fix-it job.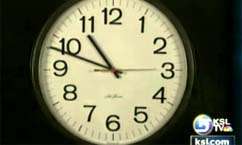 Congress decided we should spring forward three weeks earlier to conserve energy. But in America's gadget-driven lifestyle, that creates a big problem. Computerized devices don't know daylight saving time begins Sunday, March 11. They think it starts April 1. So unless they're updated, the computers are an hour off.
Owen Smoot, KSL director of IT: "Any business that depends on computers for automatic scheduling will be impacted."
Like banks and corporations. It's not the predicted Y2K gloom and doom, but many companies are scrambling because they didn't have a long enough heads-up.
Think about everything that has to be updated. All those clocks are time-consuming but easy to change. How about the blackberries, corporate servers, smart cell phones? KSL has to update all its gadgetry.
Owen Smoot: "It does take some time. We've scheduled all of next week to get to all the smart phones in the company."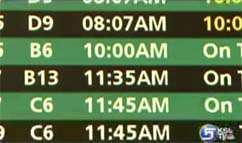 And time is money. Billions will be spent across this country to make the changes, including at airports. The clocks and flight displays are not the big concern. The issue is when airports use automated time for gate assignments. So if those are not fixed pronto...
Barbara Gann, airport spokesperson: "Essentially it means you're delayed and you're waiting."
Fortunately it shouldn't be a problem at Salt Lake International.
Barbara Gann, airport spokesperson: "We don't operate on a slot system."
Gene Kennedy, Eyewitness News: "But other airports do?"
Barbara Gann: "Some big international airports do, but it's all a matter of preplanning, so we're good to go."
But is your computer good to go? If not, you'll need a patch to update the time. You can download those from Microsoft and Apple, but keep this in mind:
Owen Smoot: "If you're not on a current version of Windows and don't have the savvy to patch it yourself, they will charge you for help."
If you don't want to use one of those computer patches, you can fix the problem yourself. Just go to your computer's control panel and you can change the time manually.
×
Most recent Utah stories