Estimated read time: 3-4 minutes
This archived news story is available only for your personal, non-commercial use. Information in the story may be outdated or superseded by additional information. Reading or replaying the story in its archived form does not constitute a republication of the story.
OGDEN -- A Utah Highway Patrol trooper was hit by a van while responding to another accident overnight. Though she's expected to be OK, she has a message for drivers: slow down.
Trooper Rachael Zubal was still at McKay-Dee Hospital in Ogden being treated for serious injuries Sunday. She was struck on Interstate 15 Saturday night while helping with a two-car accident in Davis County.
UHP says this is a disturbing trend. In the last several months, 20 troopers were hit while helping other motorists on the roads.
Saturday night's accident happened just two weeks after UHP troopers held a news conference urging drivers to slow down and pay attention.
Zubal says she and a UHP trainee had been called out to an accident near mile marker 337 outside Sunset just after 11 p.m. She was standing on the highway near her patrol car when a van came skidding towards her at roughly 40 miles per hour across snow and ice.
"I didn't remember anything after that. Just woke up on the ground, pretty alarmed," says Zubal. "It was all surreal until I realized I had indeed been struck by a vehicle."
The trainee was unhurt, but the collision nearly tore a door off the patrol car. It knocked Zubal roughly 50 feet and tore off her jacket.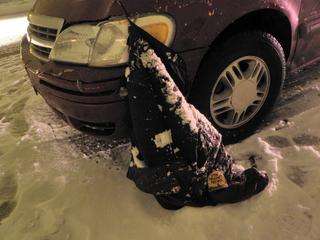 "Can you imagine getting to the scene and seeing one of your troopers sitting in the grill of the vehicle and her body parts spread across that van?" says Col. Daniel Fuhr with the UHP.
The crash essentially filleted her thigh, broke her hip and pelvis, and cut and bruised her head and face.
Zubal's husband, Robert, himself a Salt Lake City homicide detective, got a call about the accident and raced to the hospital with the couple's two children, not knowing her condition.
"It's just a very scary thing to go through to try to explain to my children on the ride down, where we were going and why," he says.
Zubal has had the tough job of informing others when a loved one has died on the freeway. This time, she knows she was nearly the victim herself, and says the message to the public should be clear.
"I always figured your luck would run out and I'd get trunked or struck, but I always thought I'd be in my vehicle. I never imagined it would be outside the vehicle," she says. "The red and blue lights aren't just toys. We have them there for a reason."
The UHP is echoing Zubal's message. "We're asking people to please slow down and move over when they see these emergency lights on the freeway," says UHP Lt. Ed Michaud. "Not just slow down to the speed limit, slow down significantly. Move over as much as you can."
Troopers have some valuable tips to pass along, if you approach an emergency scene:
Slow down immediately
Move over as much as possible
Look for warning signs and hazards
Focus on your driving and nothing else
Troopers say the consequences of not following this advice can be quite dangerous, as evidenced by Zubal's story. They say it's especially important to follow these guidelines now, because there are fewer troopers able to respond to accidents.
In 2009, UHP had to cut 21 troopers, with an additional 4 percent of their force cut in the past few months.
UHP officials say in the past 12 years, traffic-related accidents have been the No. 1 cause of death for law enforcement.
As for Zubal's accident, the Layton City Police Department will be helping with the investigation. So far, no charges have been filed.
E-mail: jdaley@ksl.com
×
Photos
Related stories
Most recent Utah stories