Estimated read time: 2-3 minutes
This archived news story is available only for your personal, non-commercial use. Information in the story may be outdated or superseded by additional information. Reading or replaying the story in its archived form does not constitute a republication of the story.
Alex Cabrero ReportingOur sporadic snow storms are creating unstable conditions in the mountains. Just two weeks ago, four people in Utah died in the backcountry.
It appears people are now heeding the warning to play safely. The avalanche danger remains high in the backcountry throughout Northern Utah today. But fortunately we haven't had any fatalities this weekend. Those heading into the backcountry are asked to be extra cautious.
The Utah Avalanche Center released a list showing who has been the most victimized by avalanches in Utah during the past decade.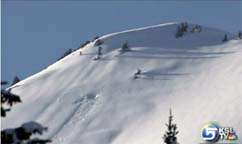 The victims were broken into four categories: snowshoers, snowmobilers, skiers and snow boarders. We wrote those four categories on our videotape cases and asked people heading into the backcountry to put them in order as to who they thought was the most victimized and why.
If you've been up any canyon in Northern Utah lately you don't need our pictures for you to know the snow is deep.
Erin Cole: "We always call the avalanche center before we go anywhere."
Erin Cole and her husband love skiing in the backcountry. They've been doing it for years. But we asked them if they thought skiers were more victimized by avalanches than any other group.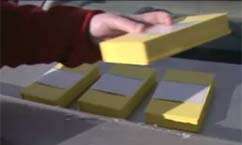 Using those groups written on our videotape cases,we had people arrange the list in the order they thought was true.
Cole thought snowmobilers are victimized most often by avalanches.
Erin Cole, Holladay resident: "My thinking is that snowmobilers can actually get furthest into the backcountry than any of these."
Carine and Randall Henderson thought the same way.
Carine Henderson, Salt Lake City resident: "Snowmobilers. They have the ability to go up to the higher point."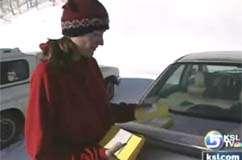 But not Brittany Farnsworth. She's a skier, and thinks skiers are most often victimized by avalanches.
Brittany Farnsworth, Midvale resident: "I think they're more likely to get up higher and to go down and do crazier things."
So what's the right answer? According to the Wasatch-Cache National Forest and the Utah Avalanche Center, snowboarders are the most victimized by avalanches in Utah during the past 10 years, at 39 percent. In second place it's a tie between snowmobilers and skiers at 22 percent. In fourth place, snowshoers at 17 percent.
Everyone we spoke with correctly put snowshoers in last.
Brittany Farnsworth: "I think they're more likely to stay on a trail."
But no one picked snowboarders as first.
Erin Cole: "I guess snowboarders are known for being a little reckless and going out of boundaries."
This information doesn't mean one is safer than the other when it comes to avalanches. It just shows no matter what you do in the backcountry, you should always be prepared.
Erin Cole: "You never know when an avalanche is going to come down."
Nationally, snowmobilers are the most frequent victims of avalanches. But here in Utah, again snowboarders are number one.
×
Most recent Utah stories