Estimated read time: 1-2 minutes
This archived news story is available only for your personal, non-commercial use. Information in the story may be outdated or superseded by additional information. Reading or replaying the story in its archived form does not constitute a republication of the story.
Gene Kennedy Reporting Police have captured a man they say burglarized businesses all over the Salt Lake Valley. But getting to the man was a task.
Police say he was hiding in a closet inside a vacant apartment at an apartment complex. It was a passive ending to an aggressive beginning. In cuffs now, but only hours earlier police say the man led officers on a high-speed chase down Redwood Road and managed to get away.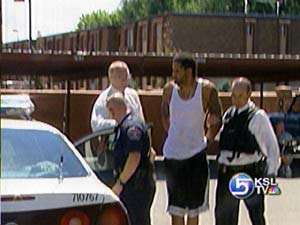 He dumped the silver Chrysler he was driving at a Taylorsville home, then going to a nearby apartment complex to hide. The apartment manager saw police catch him.
Earlene Seipel, Apartment Manager: "This is very scary to be managing an apartment where something like this happens."
Even though police are not releasing his name, they believe he's the same person who allegedly stole lap top computers from the Wells Fargo in downtown Salt Lake City. And investigators say he's not working alone, that he's one of several suspects burglarizing businesses in at least five cities.
Capt. Steve Sandquist, West Valley City Police: "They been very active over the last couple of weeks. They've been responsible for, I'd say, burglaries in every city in this valley."
West Valley Police received information that the suspect lived with two other people at the Somerset Apartment Complex. When police went to question all three, that's when one of them took off, causing the chase. But tonight police rounded up all three. . Investigators are still interviewing the suspects to determine what burglaries they can link them to, if any. But without any charges at this point, names have not been released.
×
Most recent Utah stories