Estimated read time: 2-3 minutes
This archived news story is available only for your personal, non-commercial use. Information in the story may be outdated or superseded by additional information. Reading or replaying the story in its archived form does not constitute a republication of the story.
Shelley Osterloh Reporting One of the world's most luxurious hotel resort companies plans to build a new resort in Southern Utah. The Aman Resorts announced today it will build a five star resort on the shores of Lake Powell.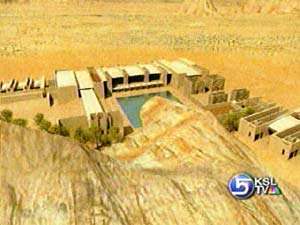 Aman Resorts are in found in exotic places like Moroco, France, India, Thailand and Sri Lanka, Bora Bora, and soon, Kane County, Utah. The 150 million dollar resort will be located on the Utah side near the Utah-Arizona border, right on the shores of Lake Powell. Aman Resorts has about 17 exclusive resorts around the world, all in locations with spectacular scenery.
Guy Heywood, Aman Resort Property Manager: "For us its all about the destination, bringing our guests to unique destinations. It's about the culture, the rich heritage, and obviously the landscape. And that's what we see in southern Utah."
The resort, to be called Amangiri, will be tucked among the rock formations. The first phase calls for about 40 luxurious guest rooms, a spa, restaurant, lounge and boat house. Plus 28 villas will be sold, somewhere in the neighborhood of 5 or 6 million dollars each. Still, resort representatives say the resort will be small and designed to suit the landscape.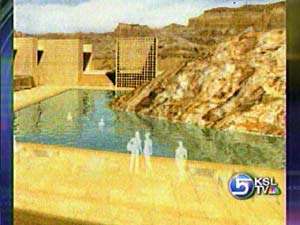 Guy Heywood, Aman Resort Property Manager: "Certainly no high rise, no multi-levels, nothing like that. The structure will definitely blend into the rock formations and the design that is sort of local and keeping with the area."
Christoph Henkel, the property developer, purchased more than 600 acres of private land and managed to get approval from Congress and the President to swap private land near Wahweep for an additional 320 acres of Federal lands on which to build the resort. In all, they have about 1900 acres. Henkel says it's the scenery that makes it attractive to Aman Resorts and its worldwide upscale clientele.
Christoph Henkel, Developer: "The Escalante Staircase is right at our doorstep. There's Paria Canyon and we are not far away from Bryce and Zion. So we are sort of smack in the middle of all the great features, which make the American landscape, which are part of our culture, even my culture and I am German."
This will be Aman's second resort property in the USA --- the other is located near Jackson Hole, Wyoming. Oakland Construction company has been hired to build the Amangiri Resort at Lake Powell and it is scheduled to open in the summer of 2007.
×
Related links
Most recent Utah stories