Estimated read time: 2-3 minutes
This archived news story is available only for your personal, non-commercial use. Information in the story may be outdated or superseded by additional information. Reading or replaying the story in its archived form does not constitute a republication of the story.
SALT LAKE CITY -- The conditions that have already killed two skiers this week will persist for many days to come.
Nature is setting Utah up for another dangerous weekend in the Wasatch Mountains, and you may be surprised to learn it's not the most dangerous conditions that usually kill people.
---
8 out of 10 avalanches occur after a storm when new snow is added to existing snow cover on a slope.
---
When the storms are gone and the killer avalanches have dropped out of the news cycle, it can seem like a perfect day for skiers and snowmobilers to venture into the backcountry.
"[It's a] nice, beautiful day. You feel good. The conditions are still very, very dangerous," says avalanche forecaster Brett Kobernik.
In fact, these are the kinds of days avalanche experts fear the most.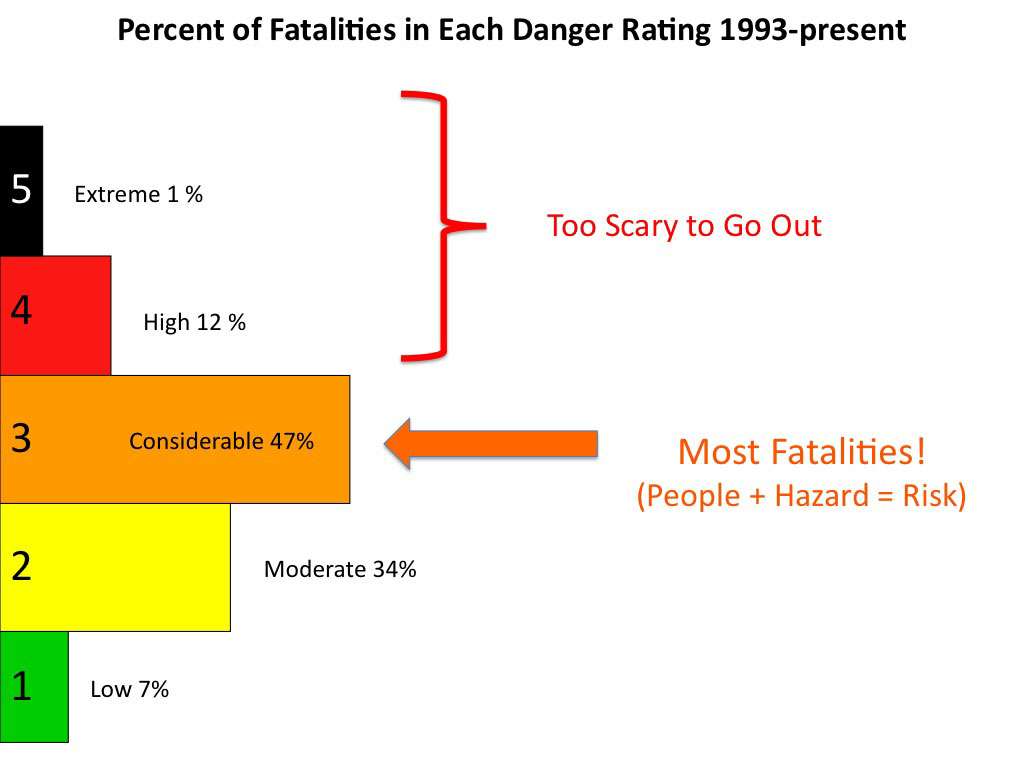 "The most dangerous time for avalanche accidents in Utah is when the avalanche danger is on its way," Utah Avalanche Center director Bruce Tremper said Monday.
You might suppose that most deaths occur when the avalanche risk is rated "high" or "extreme." Wrong! The scariest conditions account for only 13 percent of the deaths in Utah; 81 percent of the deaths occur when the avalanche risk is merely "considerable" or "moderate" -- the 2nd and 3rd least dangerous conditions.
"We don't really like the word 'considerable' right now," Kobernik says.
---
Avalanches most often occur on slopes steeper than 30 degrees.
---
He says most people know what "high" and "extreme" mean. They recognize it when they see it and, mostly, they avoid it.

"[It's] in-your-face danger: snowstorm, bad conditions, poor visibility," Kobernik says. "People are in their houses. They're not out in the backcountry."

**Did you know…**

Most people that die in avalanches, die in slab avalanches. Slab avalanches occur when a more cohesive or harder layer of snow sets on top of a less cohesive or softer and weaker layer of snow. - *[Forest Service National Avalanche Center](http://www.fsavalanche.org/)*

But then nature smiles and lures recreationists into trouble. Kobernik says this is when "the storme has abated. People are starting to get out into the field. But the danger is still there." In fact, over the next few days, the danger will be "considerable."

"That siren call is going to be too hard to resist for some people," Tremper says.

There's been a lot of talk in recent years about whether forecasters could save lives simply by changing the terminology. Some experts believe if they called it "dangerous" instead of "considerable," more winter-fun lovers would get the message.

E-mail: jhollenhorst@ksl.com

×
Related links
Related stories
Most recent Utah stories