Estimated read time: 2-3 minutes
This archived news story is available only for your personal, non-commercial use. Information in the story may be outdated or superseded by additional information. Reading or replaying the story in its archived form does not constitute a republication of the story.
Alex Cabrero Reporting"I just screamed. I was just like, 'help, help!' I just screamed as loud as I could."
You'd probably do the same if you came home and saw a stranger stealing your stuff. A Holladay man did just that this afternoon and decided to confront the thief. They started wrestling and fighting. Eventually the thief got away but not with any items.
After hearing this story, many of you at home will probably wonder what would you do? If you came home and saw a man stealing your stuff, would you run, confront him or do something else? It's hard to say for sure, but we now know what Trevor Snarr did.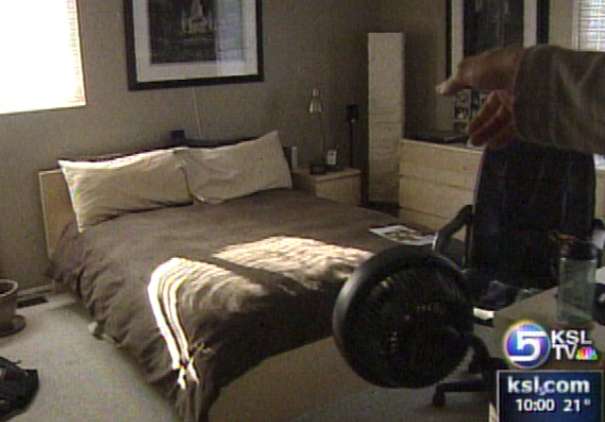 Trevor Snarr is best known for two things, being the son of Murray City's mayor and starring in Napoleon Dynamite. Now his friends might also tease him for being a crime fighter.
Trevor Snarr: "I grabbed him, and I was so nervous because I didn't know if he had a knife on him or a weapon."
It all started this afternoon when Snarr walked into his Holladay home and found someone in his room.
Trevor Snarr: "I see a gentleman, just some guy, in my room, helping himself. And I just pause and I'm just like, 'Dude, what are you doing?'"
What the stranger was doing was looking for stuff to steal.
Trevor Snarr: "He comes in and starts threatening me. He says he's gonna kill me."
Snarr let the man leave his room holding his computer. Then he had second thoughts.
Trevor Snarr: "I saw my laptop go out right in front of me. He's taking all my stuff, and I'm like 'No, I'm not gonna let this happen.'"
So, they started fighting.
Trevor Snarr: "I remember grabbing right here, and then he started swinging at me, and that's when he clocked me right here."
The man got away, but not with any of Snarr's stuff.
Sgt. Rex Mulholland, Salt Lake County Sheriff's Office: "You never know what you're dealing with."
Sergeant Rex Mulholland with the Salt Lake County sheriff's office is happy no one got hurt but also says confronting a burglar in your house might not be a good idea.
Sgt. Rex Mulholland, Salt Lake County Sheriff's Office: "You don't know if he's high on drugs or armed with a knife or a gun, and things could go bad, and a life is not worth jeopardizing for property."
Snarr understands that but is still happy he came home when he did.
Trevor Snarr: "I was actually debating going to Costco and getting something to eat, but I'm glad I came back home, because he would've had everything."
That thief is still out there somewhere; so far no arrests in this case have been made.
×
Most recent Utah stories