Estimated read time: 5-6 minutes
This archived news story is available only for your personal, non-commercial use. Information in the story may be outdated or superseded by additional information. Reading or replaying the story in its archived form does not constitute a republication of the story.
SALT LAKE CITY -- Utah lawmakers have returned to the Capitol with budget cuts on everyone's minds. State lawmakers started their annual 45-day session Monday in the throes of an economic recession.
Opening day
Lawmakers will need to trim about $200 million from the state's $11.3 billion budget in the first few weeks. Once that's completed, they'll get to work on the upcoming budget year, where there's a $700 million projected shortfall for state programs.
"The budget is truly that 800-pound gorilla in the room," said House Speaker David Clark. "It has been all summer as we've been watching our revenues fall, and they continue to slide still. We think we're at the beginning of the financial trough, that's the good news. The bad news is we're still in that hole we've been digging."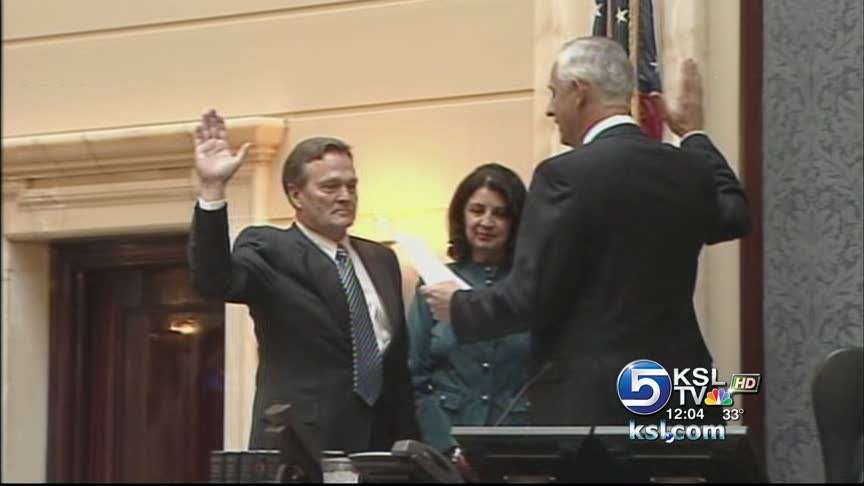 Before the hard work of trimming the budget begins, there was pomp and circumstance on opening day. It included swearing in a new senator. Jerry Stevenson replaces former Sen. Sheldon Killpack, who resigned after his arrest for DUI.
The unpleasantness of Killpack's situation quickly gave way to concern about the money situation, one that may result in cuts.
House Majority Leader Kevin Garn, said, "The majority of our time is going to be spent on the budget. We've got a $700 million deficit and it's going to take a lot of work to get there. We're going to have to look at every program in the state. We've got to make some adjustments. At the end of the day we've got to balance the budget. It's going to require a lot of time and a lot of work."
"All options need to be on the table"
Many lawmakers are open to using the state's rainy day fund and a tobacco tax increase to offset some of these money issues. But that won't be nearly enough to solve problems looming this year and next.
"All options need to be on the table," said House Minority Leader David Litvack. "We're in our infancy, we have to do our homework to figure out what kinds of cuts it will take to fix the budget problem, what that means, what it means to public education."
Some legislators are pointing to education as a way to cut back.
Sen. Chris Buttars, R-West Jordan, has proposed eliminating the 12th grade from public schools as a way to reduce spending on education. But the idea is already drawing criticism.
Sen. Gene Davis, D-Salt Lake City, said, "The idea of doing way with the 12th grade, I think, is very shortsighted at a time when we know education is key, the future of our state."
Public and higher education consume 67 percent of the state's budget. Senate President Michael Waddoups acknowledged that some suggestions, like cutting an entire grade, go too far. But he said all options should be considered.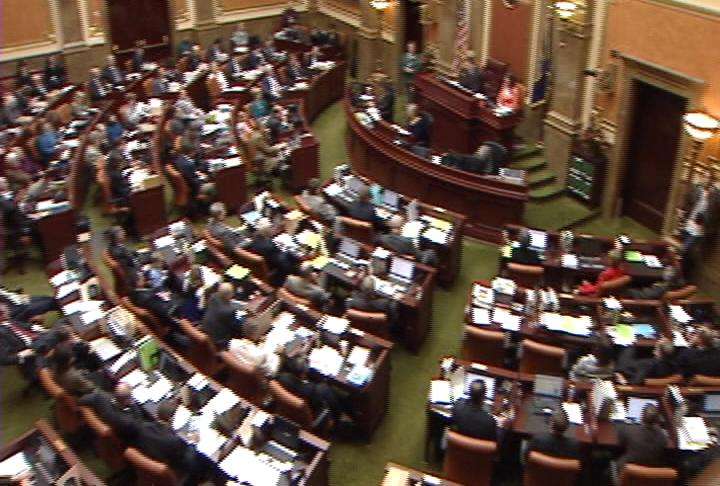 "We're going to have struggles with higher education," he said. "We're bulging at the seams. We've got suggestions to consolidate campuses. We're going to have problems with public education. We always do because that's 50 percent of our budget."
Lawmakers may consider higher taxes to help bridge the $700 million budget gap. Many, including Gov. Gary Herbert, currently do not support that.
Other suggestions include privatizing operations of state parks, reducing the state motor fleet, and even taking bids for state insurance coverage.
Waddoups said, "Those are all possibilities, and even maybe probabilities, but I also say it's important for government to scale back."
First day for new senators
Among those taking up the serious budget problems and social issues are a few newcomers.
Stevenson, appointed just a few days ago, spent his first morning in the Legislature on the basics: getting to know people, finding his desk -- he wasn't even sure where to park right away.
"I will have to spend a lot of extra time this week on being brought up to speed," he said. "I'm pretty much up on the issues, but I'm sure there's some detail I will need to get up on."
Stevenson expects his experience as the mayor of Layton will pay off when the Senate starts dealing with the budget.
The Senate also has a replacement on the Democrat side. Ben McAdams replaces Sen. Scott McCoy, who resigned last month. McAdams worked on Salt Lake City's housing and employment nondiscrimination ordinances for gays and lesbians. His knowledge may come into play when lawmakers take up statewide proposals.
"I hope there is constructive dialogue. I hope with my work with the city on nondiscrimination -- it does take a lot of talking and people working through it -- I hope that will be a topic for discussion," McAdams said.
Additional legislative priorities
While the budget is probably the biggest issue lawmakers will tackle this year, it's not the only issue. During this 45-day session several proposals will be addressed, including bills on sex education courses and abortion.
Ethics reform is also a topic of scrutiny. This year, the House is proposing a constitutional amendment to address campaign finance, lobbyist gifts and disclosure about conflicts of interest.
Lawmakers also will face a bill for statewide discrimination protection for gays and lesbians in housing and employment.
Monday is a largely ceremonial day where little work is accomplished.
House Speaker Dave Clark and Senate President Michael Waddoups both gave opening day speeches. [CLICK HEREto read the text of Clark's speech]
Gov. Gary Herbert will follow that on Tuesday with his State of the State address.
------
Story compiled with information from The Associated Press, Richard Piatt, and Shara Park .
×
Related links
Related stories
Most recent Utah stories