Estimated read time: 3-4 minutes
This archived news story is available only for your personal, non-commercial use. Information in the story may be outdated or superseded by additional information. Reading or replaying the story in its archived form does not constitute a republication of the story.
PARK CITY -- A Nobel Peace Prize winner credited with pulling more than 100 million people out of poverty held a press conference in Utah Sunday.
He came to the state for the Sundance Film Festival, but his innovative ideas are about to be directed at poor people right here in Utah
Dr. Muhammad Yunus won the Nobel Peace Prize in 2006 for pioneering the concept of micro-finance, providing tiny loans to the poorest people to help them start a business. He's not accustomed to hanging out amidst the pomp, glamour and paparazzi associated with Sundance.
Yunus's fame comes from his work in the poorest backwaters of the world.
A film premiering this weekend at Sundance, "To Catch a Dollar," is about Yunus's effort to spread the same concept to poor people in New York City. Loans go to the poorest people who could never get help from a regular bank. It might be just a few dollars or a few hundred dollars, but poor people with ambition use the loans to buy supplies or equipment and start a small-scale business, often in their own homes.
"The whole micro-credit movement all over the world is about women, how they can change their life and they can change the life of their own families, their children, and the film captures that," Yunus said.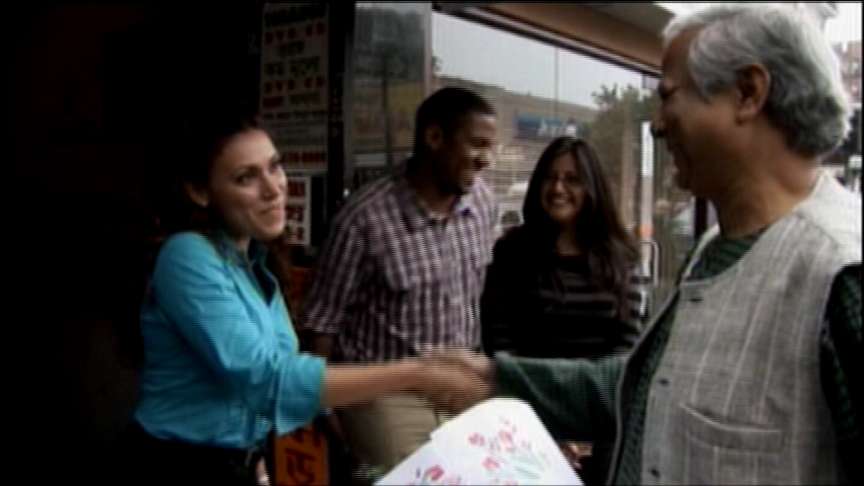 Making an appearance at a Sundance press conference Sunday, Yunus said the same concept that brought millions out of poverty in Bangladesh and other Third World countries can also help many poor people in Utah.
"So it better be today than tomorrow," he said. "Why waste time? I'm sure in Utah and also in the United States there are millions and millions of people who do not have services from the existing banking system. That's why you see Payday Loans everywhere. You see those signs. That means banks are not doing their job."
Efforts are underway to set up a branch of Yunus's bank in Utah. "We have a cure for poverty, and it's working all over the world. It can work here in Utah," said David Stephens with Yunus's Grameen Foundation.
Stephens is helping launch the effort here. He said Yunus's project has lifted 110 million people out of poverty. All they needed was a chance to get started.
"There's a whole lot of people in Utah who can't borrow money from the bank," Stephens said.
Indian reservations would be a prime target. Micro-loans might help a family launch a jewelry making business. On the Wasatch Front, a micro-loan might outfit a home bakery business.
Stephens said, "They can borrow $500 to buy a really good mixer to make a cake. The banks don't want to loan that kind of money."
Thousands of newcomers to Utah are potential clients.
"This would be a great opportunity for a lot of refugees, but there's a lot of people that don't want a handout. They just want an opportunity," Stephens said.
The beauty of it is, those who receive help pay the money back once they succeed.
To invest or volunteer in the micro-loan effort, CLICK HERE.
E-mail: hollenhorst@ksl.com
×
Related links
Related stories
Most recent Utah stories