Estimated read time: 3-4 minutes
This archived news story is available only for your personal, non-commercial use. Information in the story may be outdated or superseded by additional information. Reading or replaying the story in its archived form does not constitute a republication of the story.
Gene Kennedy ReportingIt's a true American dream story. A man from Nepal took on one of the biggest challenges known to man, all to help his family.
He's a world away from where he grew up, because he was willing to take a big risk.
In Holladay, Utah, there's an outdoor clothing store with much more than just a cool name. In fact, what's truly unique about Karma Outdoor Clothing is not necessarily what's sold on the racks, but the man who's selling it.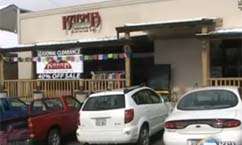 The quiet, polite cashier is actually the greatest climber in the history of Mount Everest. Apa Sherpa holds the record for climbing the world's tallest mountain the most times. He didn't do it to win a place in the Guiness Book of World Records. Poverty led him to the mountain.
"Super Sherpas" DVD: "He had no choice but to become an expedition porter to support his family."
Sherpa was 12 when his father died, forcing him to drop out of school and start climbing for a paycheck.
"Super Sherpas" DVD: "The sudars or foreman noticed the boy who, despite his small stature, carried kilos much heavier than his own weight and did so with sureness, steady feet and a read-wide smile."
That bright spirit and determination led Sherpa to the top of Everest 16 times.
"Super Sherpas" DVD: "He has rightfully earned the title 'The Tiger of the Himalaya.'"
In 2003, Sherpa landed an outdoor clothing endorsement. That's how he met a Utahn named Jerry Mika.
Jerry Mika, co-owner of Karma Outdoor Clothing: "You know, I felt a real compassion to help tell his story."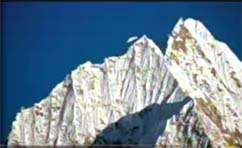 Apa Sherpa, world famous climber: "I climbed that many times because of my family. I need good education for my family."
With the help of Mika and Governor Huntsman, Sherpa's in Utah now. Last November he and Mika opened Karma's Outdoor Clothing in Holladay.
It's a dream come true. Two of his kids go to school in Draper. His 21-year-old son just started at the University of Utah. That son is the first Sherpa to go to college.
Apa Sherpa: "I am lucky and have a great opportunity to find education here for my kids. So I'm very glad here."
Sherpa loves the mountains in Utah and says the Wasatch Front has been a great training ground for his latest challenge. He's going back to Everest at the end of March. And this time he'll climb the mountain with people who know it best, other "Sherpas," or people from the East.
Apa Sherpa: "We Sherpa people do not have any history so far. So we would like to make history. It's only the Sherpa team."
But there will be some westerners helping out. Utahns who help Sherpa with his business will help out at the base camp.
Jerry Mika, expedition team member: "My job will actually be working with the weather reports and also getting the word out, letting the world know what's happening on the mountain."
Roger Kehr will be filming the expedition.
Roger Kehr, base camp manager: "The primary element is to enlighten people about the Sherpa people and their accomplishments, which up till now has not been told."
The first-ever all-Sherpa climb.
Jerry Mika: "It's an awesome opportunity to see history in the making."
Along for the ride is another Everest Sherpa who now lives in Sandy, Lhakpa Gelu. He's climbed Everest faster than anyone, in just under 11 hours. Together the two world-record holders will make history yet again.
×
Related links
Most recent Utah stories