Estimated read time: 1-2 minutes
This archived news story is available only for your personal, non-commercial use. Information in the story may be outdated or superseded by additional information. Reading or replaying the story in its archived form does not constitute a republication of the story.
Gene Kennedy Reporting Snow hit us early in the week during the morning commute, and today was a repeat. Thick, wet snow came down all over Northern Utah.
As quickly as it came, it's now gone. We're looking at some sunny skies at 7200 West. It's nothing like what we went through this morning. Our forecasters saw this coming, but the timing couldn't have been worse.
Just as drivers were heading to work, lake-effect snow blanketed Interstate 80. For most of us it was just slow-going, especially from Parley's Canyon into Salt Lake City.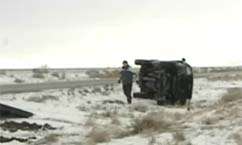 Plows did their fair share, but with poor visibility and continuous snowfall, the accidents were bound to happen.
A car ran a red light in West Valley City. It was going too fast for the weather conditions, clipped a car, and then hit a gas meter at a home.
The gas line ruptured. The driver took off, and the homeowner called police, telling them she had to get out of the house.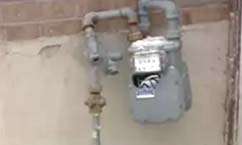 Julia Stepp, homeowner: "I'm calling. I'm getting out of the house. I'm vacating it. I could hear gas leaking. I was asking the lady who was hit to get her children out of the car."
No one was hurt, but Julia Stepp had to wait in the cold until Questar could turn the gas off and let her back into her home. And to our knowledge, police still haven't caught the driver who took off.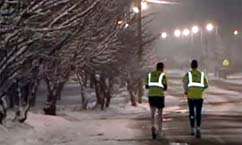 He may have been drinking. We have phone calls into police to confirm if that's the case.
Elsewhere this morning, we got a kick out of seeing bicyclists and joggers braving that lake-effect snow. Apparently, the joggers won't be deterred.
×
Related links
Most recent Utah stories