Estimated read time: 2-3 minutes
This archived news story is available only for your personal, non-commercial use. Information in the story may be outdated or superseded by additional information. Reading or replaying the story in its archived form does not constitute a republication of the story.
Sam Penrod Reporting If you live in the northern end of Utah County, you can be glad you are home and watching the news. That's because right now, thousands of people trying to get home are stuck in traffic.
What is the problem?
Drivers say it is this roundabout on Lehi's Main Street. You can see traffic is backed up for several blocks. It took me about five minutes to get through here. We went to UDOT to find out what can be done about it.
When KSL viewers let us know that this roundabout in Lehi is the epicenter of chronic gridlock every night of the week, we sent Chopper Five to check it out. And as we talked to people who drive this busy road every day, we found they aren't exaggerating.
Thomas Cox, driver: "You can be backed up clear on Main Street, and then over here you can be clear past the baseball park. It just takes a while to get through it."
Vincent Gillespie, driver: "In the evening around six it's the worst time to come through here. It's congested very bad, and it can take you two hours to get out to the crossroads and Eagle Mountain at times. It's been that bad."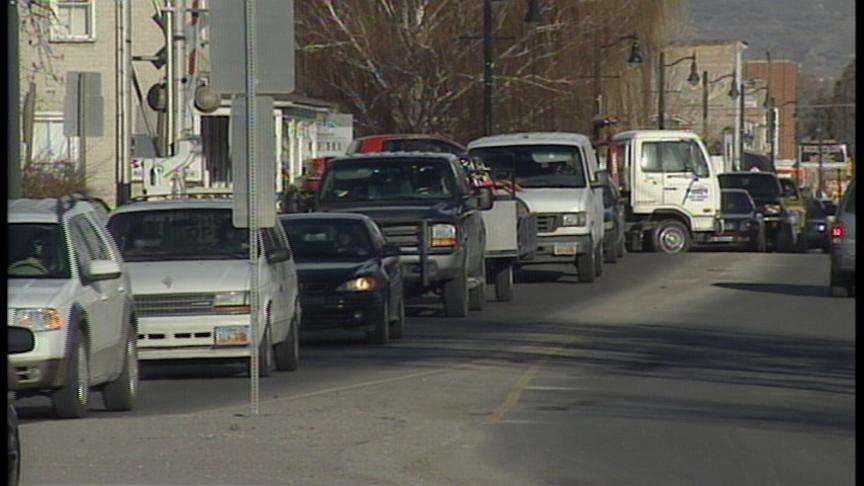 While the roundabout moves traffic well during the day, at rush hour it becomes like a four-way stop. And some drivers told us no one seems to know who they should yield to.
Janean Farrens, driver: "It blocks traffic going all directions. It really slows things down. I'm very unhappy with it. I think there needs to be something done about it."
UDOT is well aware of the problem. Officials say the roundabout was very effective in moving traffic and creating a buffer between the highway and Lehi's main street. But that was before the building boom which has brought thousands of people to Eagle Mountain and Saratoga Springs. Traffic studies show replacing the roundabout with a stop light wouldn't help, either.
Geoff Dupaix, spokesman, Utah Dept. of Transportation: "With the amount of traffic that's on the road, a signal wouldn't really allow for a continuous flow. It would back up even more."
UDOT is in the middle of traffic and environmental studies to create another east-west route. But all of that takes time, and any construction is still about three years away. With all the houses still being built here, the gridlock is probably going to get worse before it gets better.
×
Most recent Utah stories