Estimated read time: 2-3 minutes
This archived news story is available only for your personal, non-commercial use. Information in the story may be outdated or superseded by additional information. Reading or replaying the story in its archived form does not constitute a republication of the story.
Shelley Osterloh Reporting Carlos Braceras, deputy director of Utah Department of Transportation: "Simply, wow. It was an amazing effort from the legislature. We've seen more funding come for transportation out of this session than I have ever seen."
Transportation leaders are encouraged after the Utah Legislature approved a $510 million budget increase.
We wanted to know, where will all the money go?
I am at State Street near the I-80 freeway. This bridge needs some repairs, as you can see. Good thing the Legislature appropriated $30 million for bridge repairs.
Another $90 million has been allocated to fix what they call choke points around the state, you know where roads narrow down and cause slowdowns.
And that's just the beginning.
It's the biggest infusion of money for transportation since 1997, when the legislature developed the Centennial Highway program and built I-15 in Salt Lake County.
This legislature put $249 million into the Centennial program to pay off old debts and continue on projects like the Legacy Highway.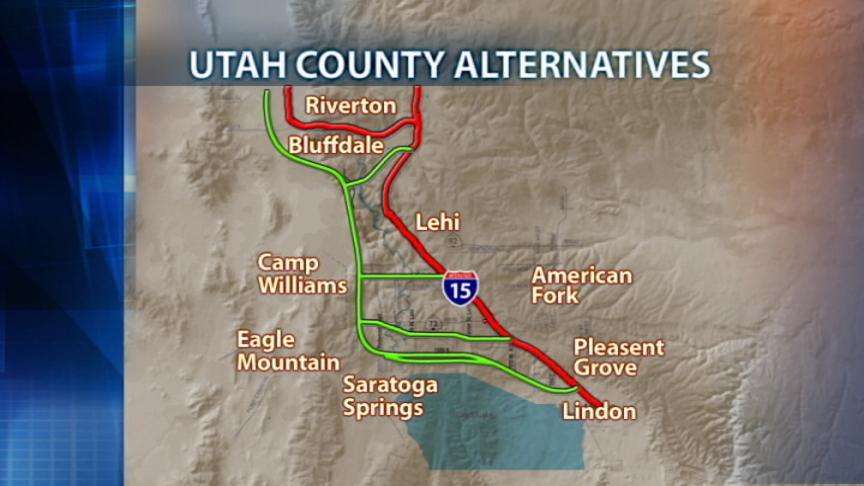 Carlos Braceras: "We are still working on Legacy Parkway, making great progress on that project. I-15 up in Ogden is under construction right now, so again a program of projects, 41 projects across the state. Instead of bonding for that, the legislature chose to pay cash, so great news there."
The state will issue a $300-million bond to buy land for the Mountain View Corridor.
That road will extend along the west side of the Salt Lake Valley at either 5800 or 7200 West and connect back to I-15 in Lehi.
Building alternative roads through Utah County and prioritizing repairs on I-15 there will also get priority.
Transportation got the OK to bond for $1 billion dollars for road projects across the state, in places like Washington County.
Carlos Braceras: "But also Cache County is an area we're going to look at. The Uintah Basin is experiencing tremendous growth with the both the energy exploration and natural growth and areas in the southeastern part of our state."
I asked Carlos Braceras, the deputy director of UDOT why, with all the state's needs, did transportation get so much funding?
Carlos Braceras: "It's clear the legislature and the Governor's office have made the connection between transportation being the foundation for our quality of life and for the economy that we are experiencing."
I-80, 201 and 215 are about the only east-west routes through Salt Lake area. The legislature also funded $3.5 million for UDOT to look at other east-west routes in Weber and Utah counties as well.
×
Most recent Utah stories